Here are the vendors we had at our Faire for 2017! 
Henna Inspired does freehand drawn all-natural henna body art and sells various items decorated with henna-style designs.  You can find Henna Inspired online at their website (linked above) and on Facebook at https://www.facebook.com/HennaInspired/
---
Emazanti Creations– A welcome veteran of the Market of the Moons, Emazanti Creations boasts gorgeous custom costuming and sparkling accessories for all your medieval wants and needs.
---
The Dancer's Closet– Trade Route Tribal Dance presents a mixture of unique jewelry from all sorts of different places as well as items from the dancer's closets that are sure to accent your own costuming or garb! Make sure to check them out both on stage and at their booth!
---

Cloak & Crown Is a fairy tale inspired costume shop. All items are handmade and available in a variety of sizes for everyone from bodices tops to capes. You can also purchase items right now on Etsy at https://www.etsy.com/shop/CloakandCrownShoppe .
---
Whimsy and Fluff– Because you're never too old for make believe. With fanciful bloomers made from vintage linens and custom made tutus of all lengths and sizes, check out Whimsy and Fluff to find what your inner child has been craving.
---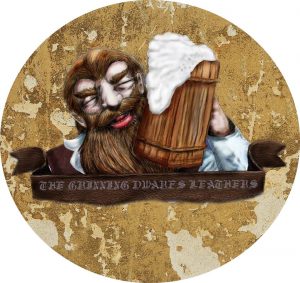 The Grinning Dwarf– The Grinning Dwarf is committed to selling beautiful, quality leather goods and custom, comfortable costuming. Everything including color, lacing, buckle size and shape can be custom made to fit your style and needs. The Grinning Dwarf is sure to leave you with a smile on your face!
---
Colchis Forge– Driven by passion for history and transcendental expression in art, Colchis Forge creates whimsical and timeless "wire wrap" designs in jewelry, sculpture, wearable art and unique historical and fantasy garb accessories. Utilizing historically available materials, including ceramic components created by our collaborating artists at Oakwood Studios, Colchis Forge has the fine faerie ring or Renaissance necklace to complete your faire-going attire.
---
---
Critically Clean is a personal care company created for those whose tastes run beyond that of simple mass produced bars. "We pride ourselves on making high quality, all natural, products with a distinctly fantasy feel. All of our scents have been designed to invoke fond memories of adventures whether they be of a great tabletop game or from something more live action. Our founder and head chandler is a self-proclaimed grand wizard of nerdery whose motto is, 'You must lather your party before venturing forth.'"
---
Silver Moon Studios– Silver Moon studios is a unique place with a selection of unique, handcrafted, one-of-a-kind artisan gifts.  "Our mission is twofold: to expose our artisans to the largest possible consumer audience, and to be a premier source for handcrafted artisan gifts."
---
---
Just In Tyme– Looking for the perfect boots to accentuate your costume? Do you just want a neat set of footwear you can't find anywhere else? Well, look no further than this excellent boot vendor! It is their goal to provide affordable boots and shoes for Medieval and Renaissance Faire, Reenactment groups, Steampunk, Cosplay and whatever else you are into! Ditch your old tired costume boots and grab a pair from Just In Tyme! 
---
---
Medieval Memories-  Journey back in time and become part of the age of Kings and Queens, Knights and maidens, romance, merriment, and adventure. Your fantasies can come true through the magic of Green-Screen Photography. Dress in the costuming of your choice, then choose the far away land to which you long to be whisked away. We will capture the fantasy and send you home with Medieval Memories. We offer 5″x7″ photos within minutes; we can even post the image to social media. You can order prints of other sizes or even various photo gifts. Come capture your fantasies and your dreams with Medieval Memories.
---
Green River Woodcraft– If you're looking for handmade wooden longbows or recurve bows, or wood turnings such as bowls and bracelets, then you stopping by Green River Woodcraft's tent is a must. Come check out this artisan's beautiful work and maybe even catch him making his bows right at the faire!
---
Funky Stuff the Collective– A unique shopping experience where you can buy offerings from a brilliant collection of hand crafted one-of-a-kind things (including hand-painted leather clothing and stained glass items) created by amazing artists!
---
Magpie Menagerie– Returning once again this year, an establishment of luxury and curiosity, Magpie Menagerie brings a fantastical array of costume accessories, larp props, ears, horns, tails, resin cast pieces, and more!
---
---
Enchanted Glen- Enchanting is right! You'll find handmade children's costumes with various stuffed accessories along with ladies clothing including tunics, faerie dresses, and much more! Stop by the Glen and see what treasures are in store.
---
Blue Farm Linen- Step back to a simpler time with the beautiful dresses, tunics, shifts, and chemises made from real linen in this booth. These rustic items will have you yearning for the days of yore but with soft, comfortable, and beautiful linens.
---
Valhalla Horns– Looking for a horn, or maybe some new feast-ware? Do yourself a favor. Stop by Valhalla Horns and take a look.  Beyond normal blowing and drinking horns, we also offer many items such as  utensil, mugs & cups, and feast-kits for the whole family! Bring out your inner viking and stop by this booth
---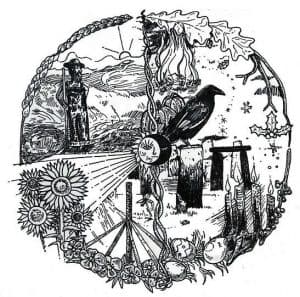 Blackthorn Prints– If you want to see some original artwork done on all sorts of different things including t-shirts, prints, and patches, you can stop looking once you get to this booth! You'll find creative works of art that can be worn, hung, or sewn into your life!
---
Gray Raven Farm- "Nestled in the Berkshire Mountain town of North Adams, Massachusetts, Gray Raven Farm is a family owned and operated farm dedicated to providing its customers with exceptional goat milk lotion, soap, and honey. We raise healthy, beautiful dairy goats as well as happy honey bees to produce our outstanding lineup of goat's milk soaps, goat's milk lotions, and pure local honey."
---
The Bonnie Weaver- Want to see how fabrics are made? Come watch the Bonnie Weaver weave the various sashes, scarves, and towels that she sells at her booth! You'll be entranced by her methods and beautiful goods!
---
---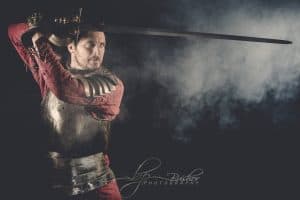 Tintagel's Gate– Mystical vendors like this one can be found at our Market! You'll find swords, daggers, axes, hand beaded jewelry, wands, tarot cards, crystal balls – and books about how to use all of it!! Stop in for a spell.
---