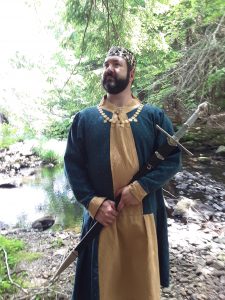 Zach Billings (King Uther Pendragon): Zach Billings is an educator when he is not pretending to be a mythical warrior-king of Post-Roman Britain.  He teaches biology and anatomy & physiology at the Springfield High School of Commerce, though he aspires to one day be a real scientist.  In addition to being a herder of teenagers, he is a musician, brewer, martial artist, exercise enthusiast, and Freemason. This will be his very first foray into acting.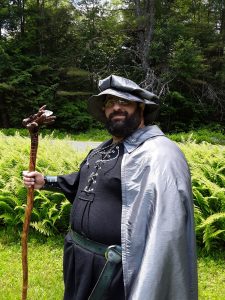 Jeremy "Geo" Giannetti (Aster): Jeremy has been involved in the local theater projects in Western Massachusetts since 2009. He first joined Genetic Imperfection and then the Come Again players, shadow casting Repo: The Genetic Opera and The Rocky Horror Picture Show.  He recently ended his nine year run with the cast in 2018. Jeremy's first experience with Renaissance Faires was with Mutton and Mead from 2011-2015. He then started performing with the Market of the Moons in 2016, and is excited to once again portray Aster. In 2018, Jeremy performed in Ware Community Theater's production of "Welcome Home," a play based upon the true life events of several veterans who served in the US military. In his spare time, Geo is an avid table top gamer and LARPer.  In his muggle life, Jeremy works as a Therapeutic Mentor, helping children and teens improve their social and life skills.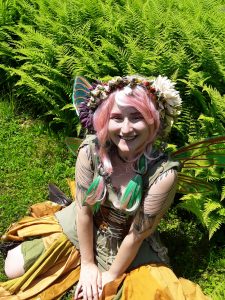 Anya Jacobs (Peaceblossom) Anya  has acted in Medieval and Renaissance festivals since 2010 as both theatrical cast and on various stage combat teams including Sarasota Medieval Faire and Mutton and Mead. They are also a fantasy illustrator and maker of faerie wings and have vended at many festivals including Connecticut Ren Faire, New York Faerie Fest, Mutton and Mead, and Mass Ren Faire. They have also preformed as a professional faerie with the Faire Fae based in Sarasota Florida.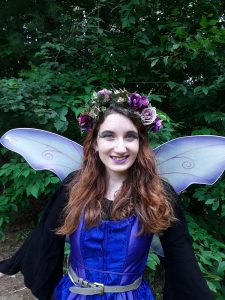 Kristina Platé (Ivy):  Boston: SCHOOLHOUSE ROCK LIVE! (Shulie), TREBLES IN PARADISE (Lindsey Berland – World Premiere).  New Jersey City University: SIDE SHOW (Daisy Hilton), HAIRSPRAY (Penny Pingleton), CHILDREN OF EDEN (Generations Soloist).   County College of Morris: COMPANY (Amy). Thanks to my friends, family, and Jenny for all their support and love!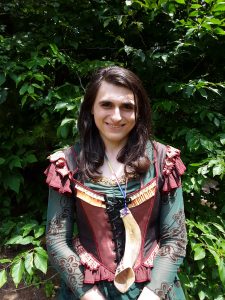 Jenny Citarelli (Moth): Jenny is thrilled to be making her Ren Faire debut as Moth! She works primarily as a composer and music director specializing in musical theatre, with degrees in music from Amherst College and UMass Amherst. Her original musical, Trebles in Paradise, a show highlighting the unique journeys of queer college students, premiered at UMass in April 2018. Past credits include: All Shook Up (Music Director/Conductor), The Buddy Holly Story (Music Director), Starmites (Music Director, Eleanor's Mother), You're a Good Man, Charlie Brown (Music Director, Pianist, Schroeder)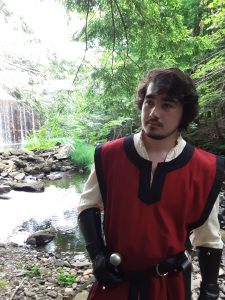 Arol Hill (Sir Tristan): Arol is excited to be a part of the Massachusetts Renaissance Faire. He has performed in several Shakespearean productions with Kit and Kaboodle including "As you like it" and "A Midsummer Night's Dream" He also starred as Linus in "You're a Good Man Charlie Brown" with the Hilltop Players. Arol is highly grateful to his acting teachers Lyle Pearsons and Marilene Allen of Red Door Theatre for supporting and coaching him through the years.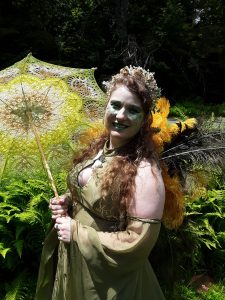 Sally Jenkins (Queen Titania): Sally is delighted to be returning for her fourth year with the Massachusetts Renaissance Faire. During the less magical parts of the year she spends her time doing other theater and musical endeavors and outdoor activities of various degrees of dangerousness. When she is not playing in the woods or on the stage, she is an Acoustic Engineer at Massa Products Corporation in Hingham MA.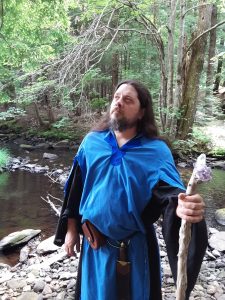 Abel Silva III (Merlin):  is ever so pleased to get to perform with Mass Renfaire for the first time. Who knew bureaucrats were so effective at stopping pirates. Abel is a nearly life time resident of the Connecticut river valley, and rumor has there is great white bear in his lineage or maybe wood nymph. It's so hard to tell these days
When the moon dwells  in other celestial houses he busies himself with all manors of practical magic from fire bending and crafting to alchemy,  brewing potions like mead. He comes to us from a background in object manipulation and progressive activism. When he's not a wizard he's a jack of all trades who loves to reuse material to save the planet.
Special thanks to Dr. Goldfish for everything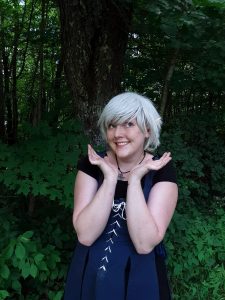 Wynne Clark (Jack Frost): Wynne has been performing in Festivals like the Massachusetts Renaissance Faire for the past 9 years. Her first time as a festival actor was at The Mutton and Mead Medieval Festival, which she still performs at to this day. She has also worked for the Connecticut Renaissance Faire, the Gulf Coast Renaissance faire, the Enfield Pirate Faire, and several other shows around Massachusetts. Wynne has played roles varying from the muddiest peasant to the most pleasant princess, from the angriest guard to the cheeriest pirate, and everything in between! While Wynne will be swinging swords and bringing evil to a few other faires this year, she'll be bringing merriment and games to the Massachusetts Renaissance Faire as Jack Frost! This is her fourth year portraying Jack, and she can't wait to see what kind of trouble he gets into this time!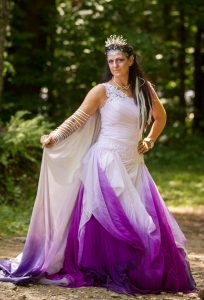 Nancy Huntington (Queen Mab): Nancy has over 20 years experience in historical research, reenactment, costuming and cosplay. While working at the (sadly no longer) Higgins Armory Museum, she studied Viking age combat and German longsword, as well as various other weapons and armor. She created a series of Celtic historical programming, and was most well known for her first-person, dramatic presentation of the story of Queen Boudica. Some of  the characters she has portrayed include Arwen, Padme, Princess Leia and her primary role-model, Wonder Woman, who she tries to emulate in regular life by being a strong advocate for animal welfare, social justice and environmental causes. "I am willing to fight for those who cannot fight for themselves".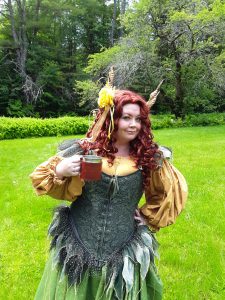 Seana Lamothe (Mustardseed): Seana is a children's theatre teacher and director living in Western Mass. She is co-creative director of Shiprock and Anchordog, a multimedia arts project centered on teaching children about social justice, self-awareness, and environmentalism through theatre and music. She runs programs teaching children how to compose and stage their own musicals and operas. She has played a variety of roles, including Puck in a Midsummer Night's Dream, and Barbara Allen in Dark of of the Moon. Some of her most recent roles have been: Mustardseed here at Mass Ren (4 years), Dora Bailey in Singin' in the Rain, Dolly in Hello Dolly, Audrey in Little Shop of Horrors, the Narrator in Joseph, and Lucy in You're a Good Man, Charlie Brown. In her spare time, she is a playwright, a children's book author, and most importantly, a mother to a warrior princess daughter.
Festival Dates
August 5-6 and 12-13, 2023
Festival Times
August 5th and 6th:
10am-7pm is Family Friendly Faire Fun!
7pm- 10pm is our 18+ Market After Dark
August 12th and 13th:
10am-5pm is Family Friendly Faire Fun and the 13th is Pet Day!
Directions
97 Fairgrounds Road, Cummington, MA
Directions
97 Fairgrounds Road, Cummington, MA