2020 Virtual Vendor Alley
Hand-crafted and artisanal wares to suit your fancy
Gray Raven Farm
Nestled in the Berkshire Mountain town of Lanesborough, Massachusetts, Gray Raven Farm is a family owned and operated farm dedicated to providing its customers with exceptional goat milk lotion, soap, and honey. We raise healthy, beautiful dairy goats as well as happy honey bees to produce our outstanding line of goat's milk soaps, goat's milk lotions, and pure local honey.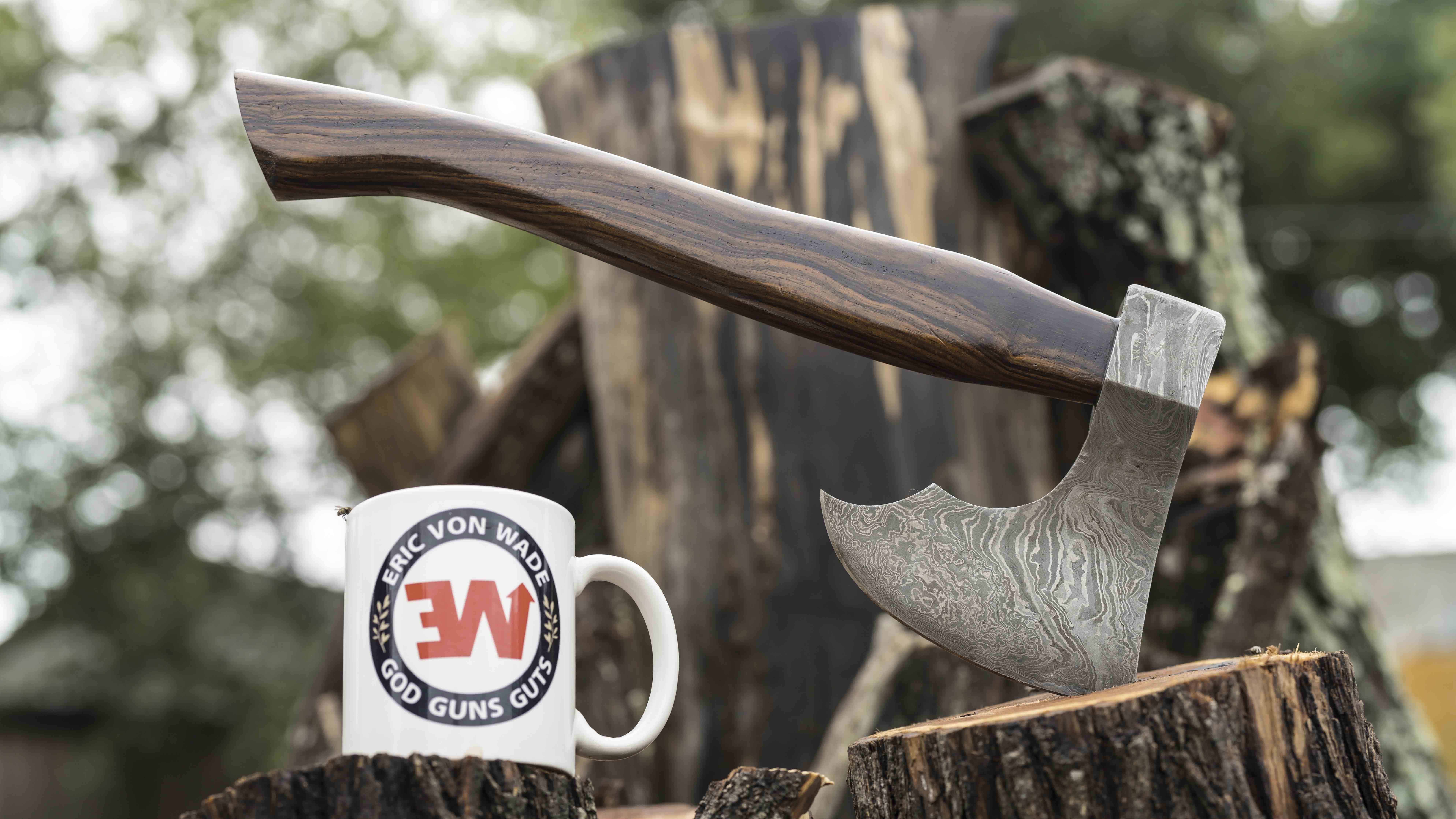 Armory Outfitters USA/East Coast
Armory Outfitters USA East Coast, offers you the one of the finest selections of some of the greatest blades ever constructed in the course of human history and at a savings that is almost unbelievable. All of our blades and axe heads are the strongest design and battle-ready condition. Armory Outfitters East Coast, provides the highest quality handcrafted damascus steel knives, axes, and hatchets. All with handcrafted leather sheaths. In addition, we also have a variety of leather bags, portfolios, and wallets, and much more.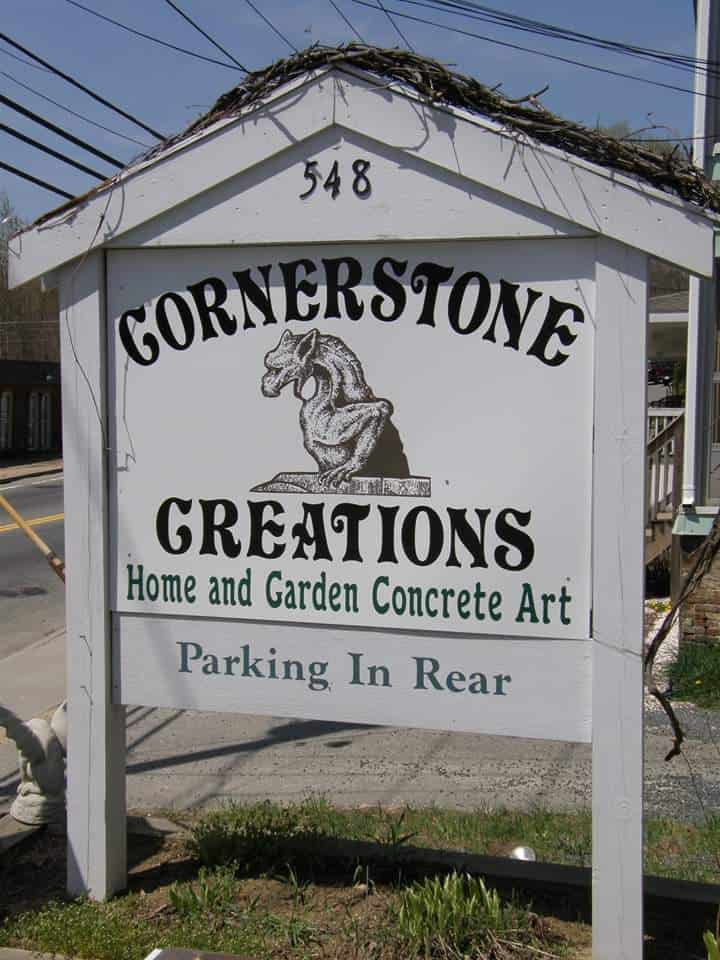 Cornerstone Creations
Unique and original home and garden concrete art specializing in mythical ,fantasy ,celestial , cultural, Gothic and nature inspired designs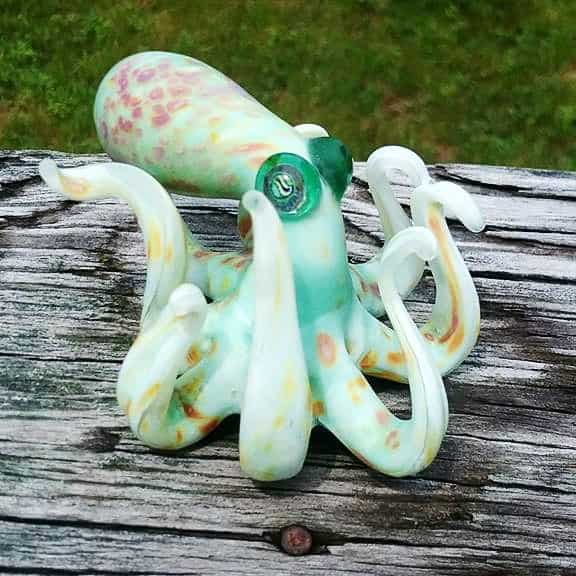 Glass Sails
Follow the gleam of glass to Glass Sails, where you'll find a lady glassblower presenting her wares. Formed in fire for the Royal Court: Glass Dragon Claws, Daggers, Sculptures, Captured Glass Flowers, Vessels and much more.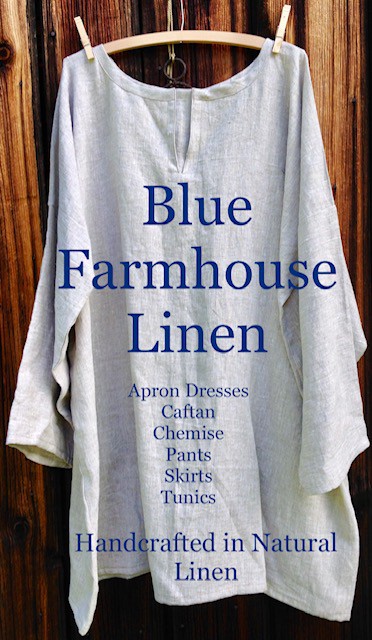 Blue Farmhouse Linen
Handmade 100% linen clothing, made locally.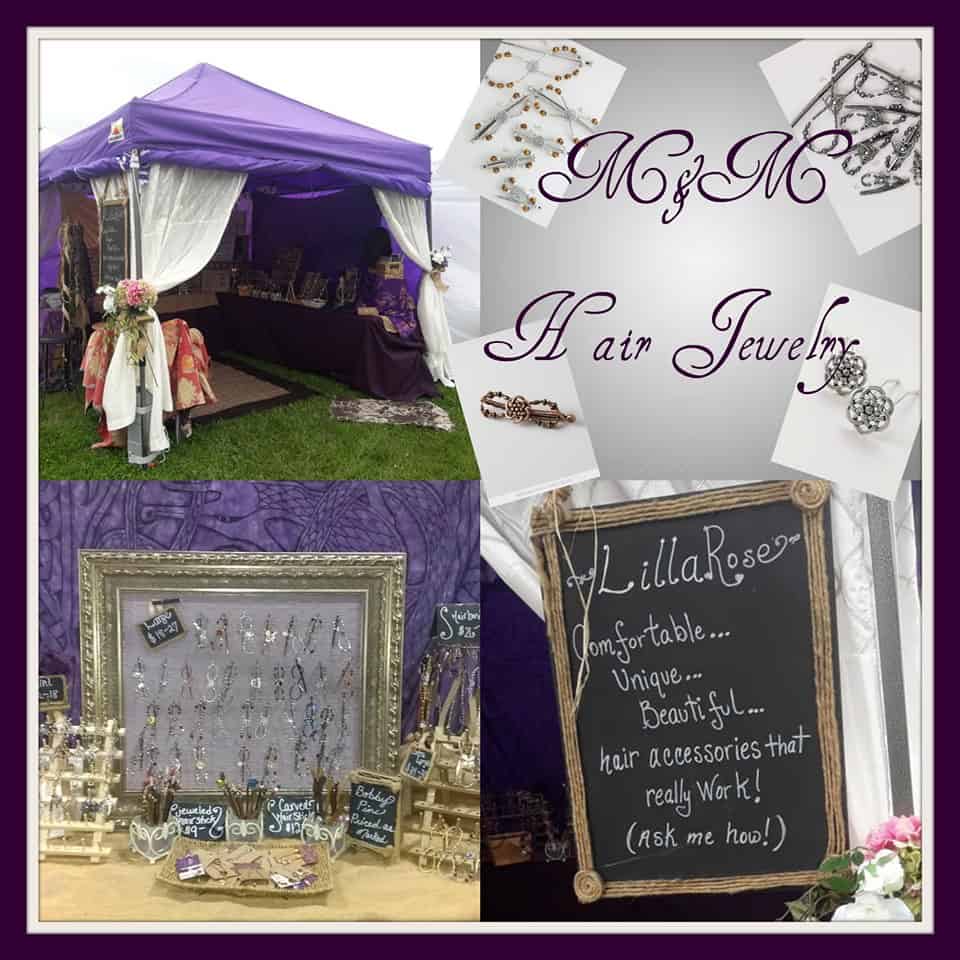 M&M Hair Jewelry
Stop by M&M's and experience the magic of Lilla Rose hair accessories. Free demonstration for anyone who wishes to try these beautiful hair accessories.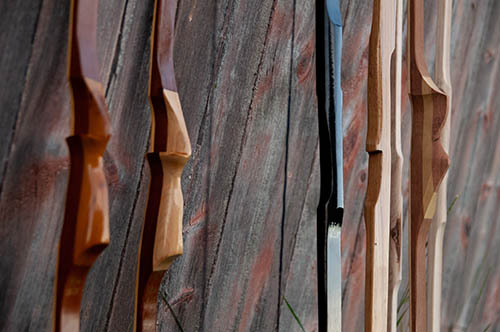 RM Bowstring
RM Bowstring is an archery company specializing in traditional wooden bows. We offer modest priced self bows for those looking to give the sport a try, to higher end laminate bows for seasoned pros.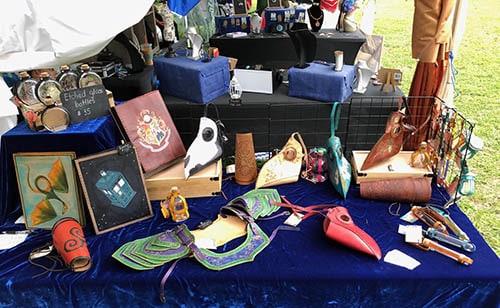 Unisis Creations
Unisis Creations offers a wide variety of hand made items with a steampunk and fanart flair. We can help you class up your cosplay or sneak a little nerdome into your daily wardrobe.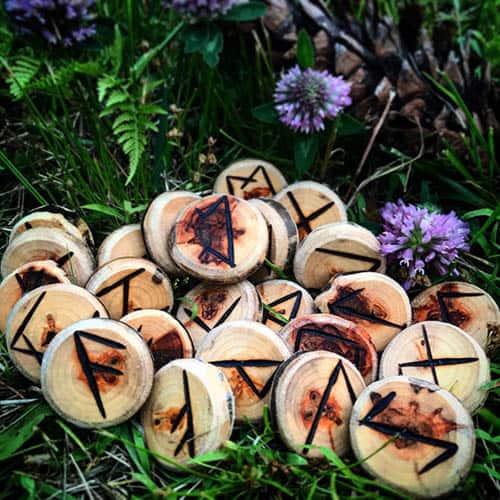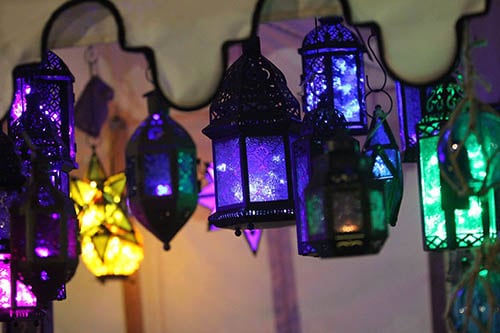 There Was a Star Danced
There Was a Star Danced features beautiful glass candle lanterns in dozens of designs and colors to bring more light into your life and beauty into your home.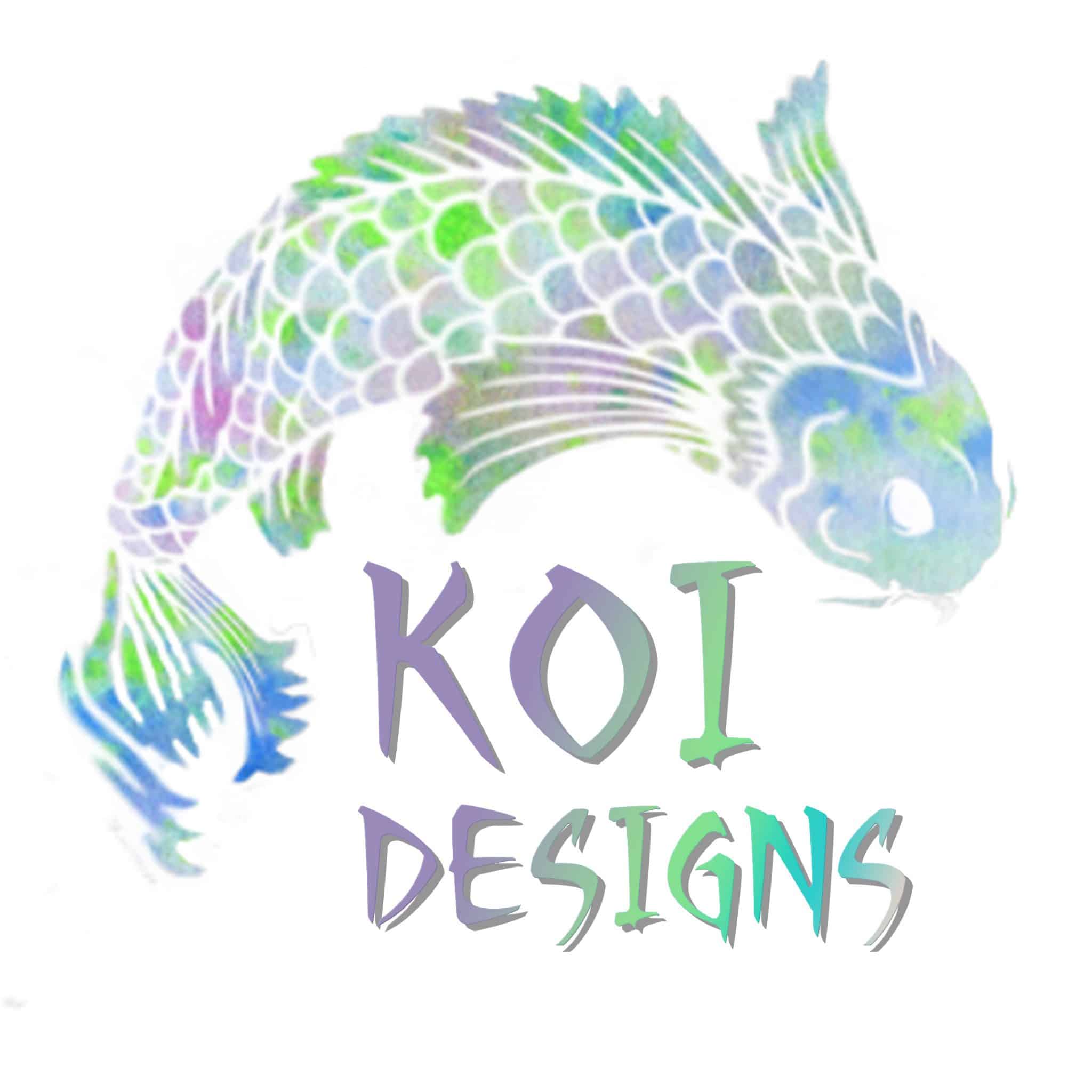 Koi Designs
Handmade pottery and gifts that are nature, pagan, and/or druid inspired.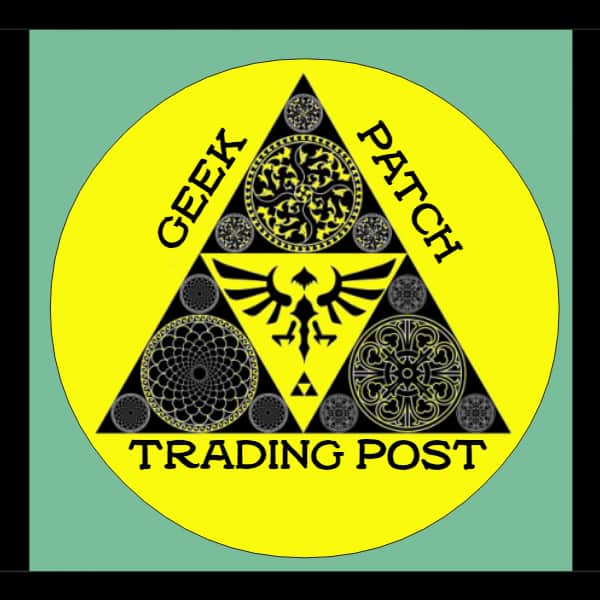 Geek Patch Trading Post
Handmade custom home decor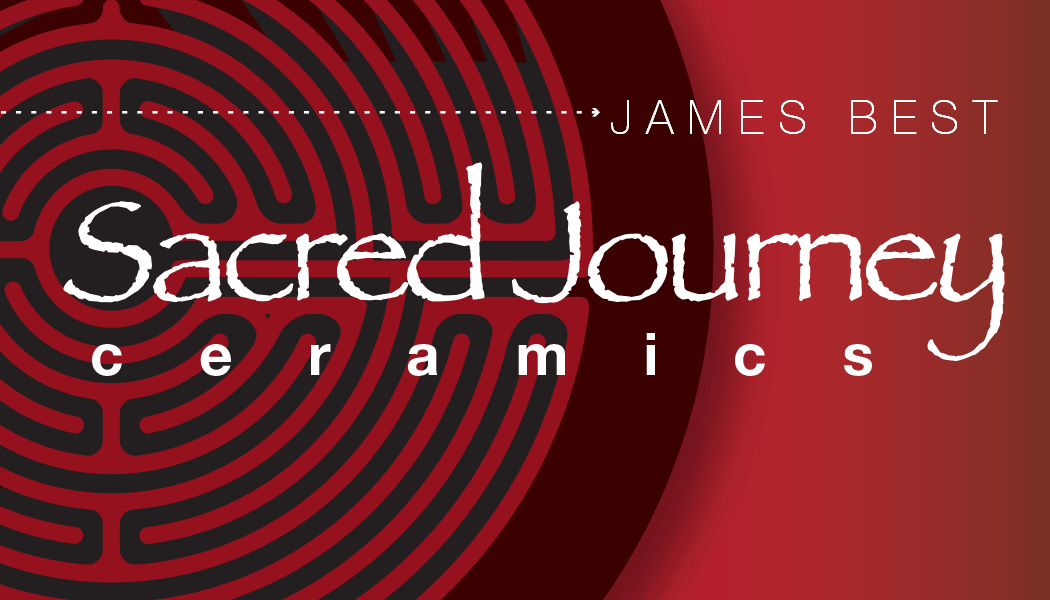 Sacred Journey Ceramics
Functional and decorative ceramic wares with fantasy and medieval themes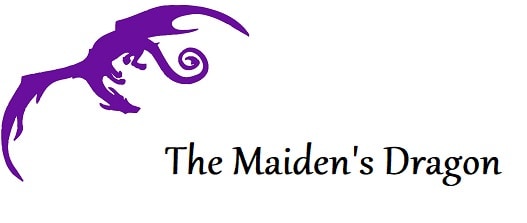 The Maiden's Dragon
Welcome to The Maiden's Dragon, the place where fantasy and reality collide; the place of fairies, dragons, unicorns and all manner of creatures. We hope to bring a smile to your face when you cross into our land and keep that brightness when you depart.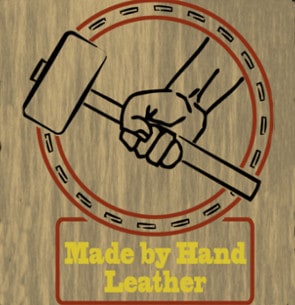 Made by Hand Leather
Made By Hand Leather is partnered with Legendary Leathercrafts to provide handmade leather armor, belts, pouches, masks, tankard wraps, etc. We also distribute a selection of items from Epic Armoury such as foam LARP weapons, plate armor, hats, etc.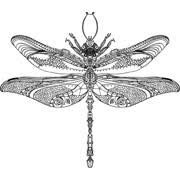 Amalgamated Funk and Finery
I am a home crafter who enjoys taking little bits of things and transforming them in to beautiful jewelry and accessories. I am known for my beautiful flower/fairy crowns that are even more gorgeous with lights!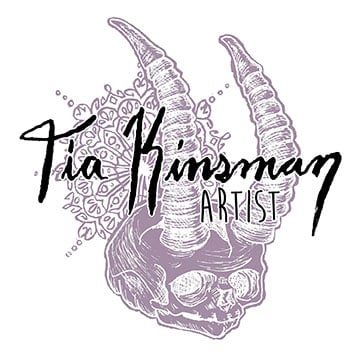 Tia Kinsman
Tia Kinsman is an artist and crafter with a taste for the macabre, art nouveau, the occult, and nature. She offers hand made bitty banners, one of a kind mini cameo paintings, and fine art prints of her watercolor works.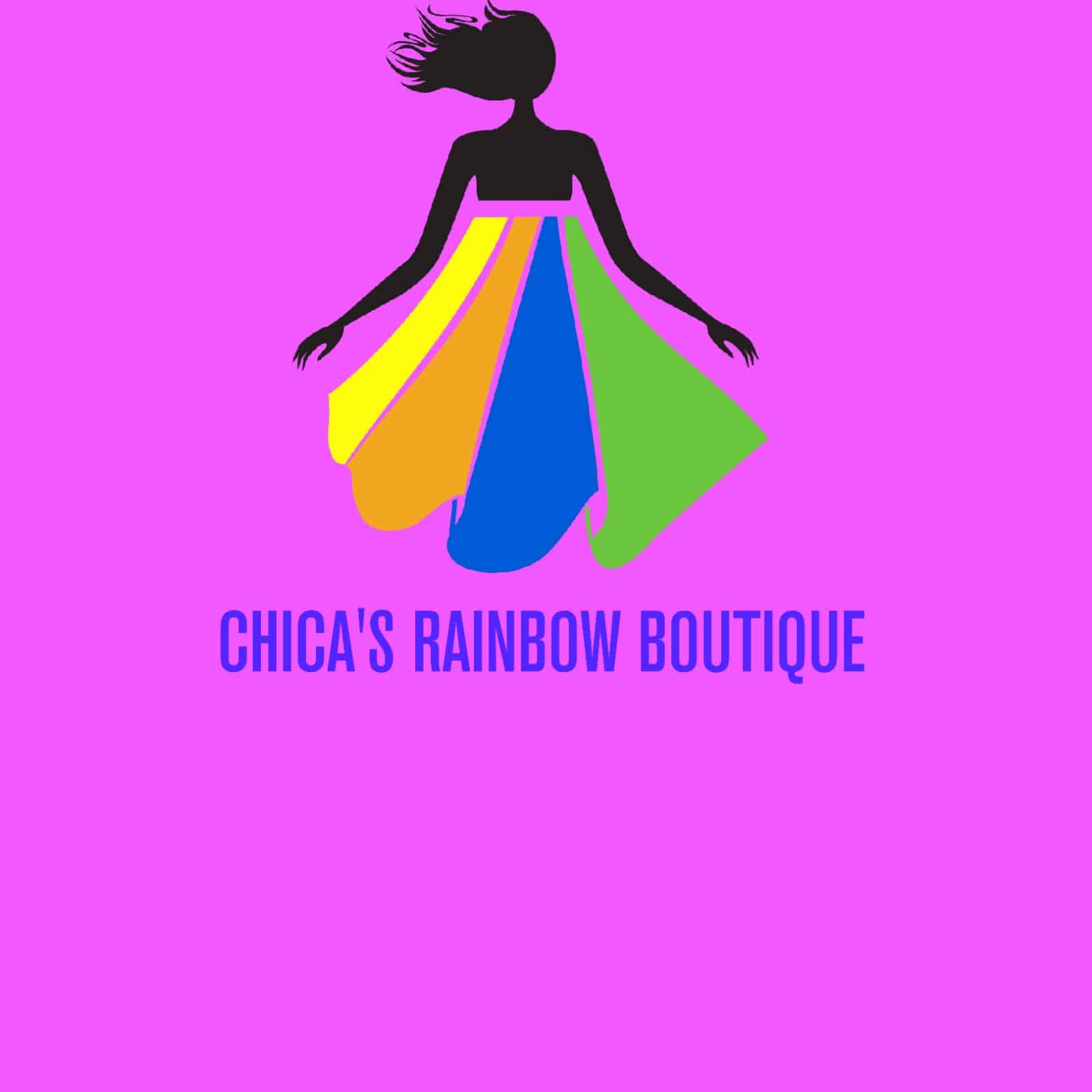 Chica's Rainbow Boutique
We strive to bring the highest quality and best design possible. We have something for everyone yes even men.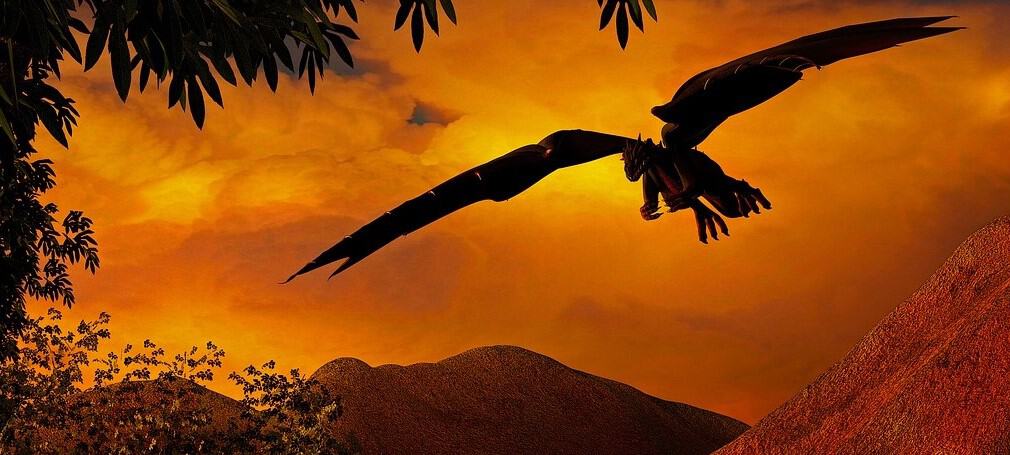 Dragon's Nest Designs
One stop shopping adventure for everything Medival Gothic unique jewelry.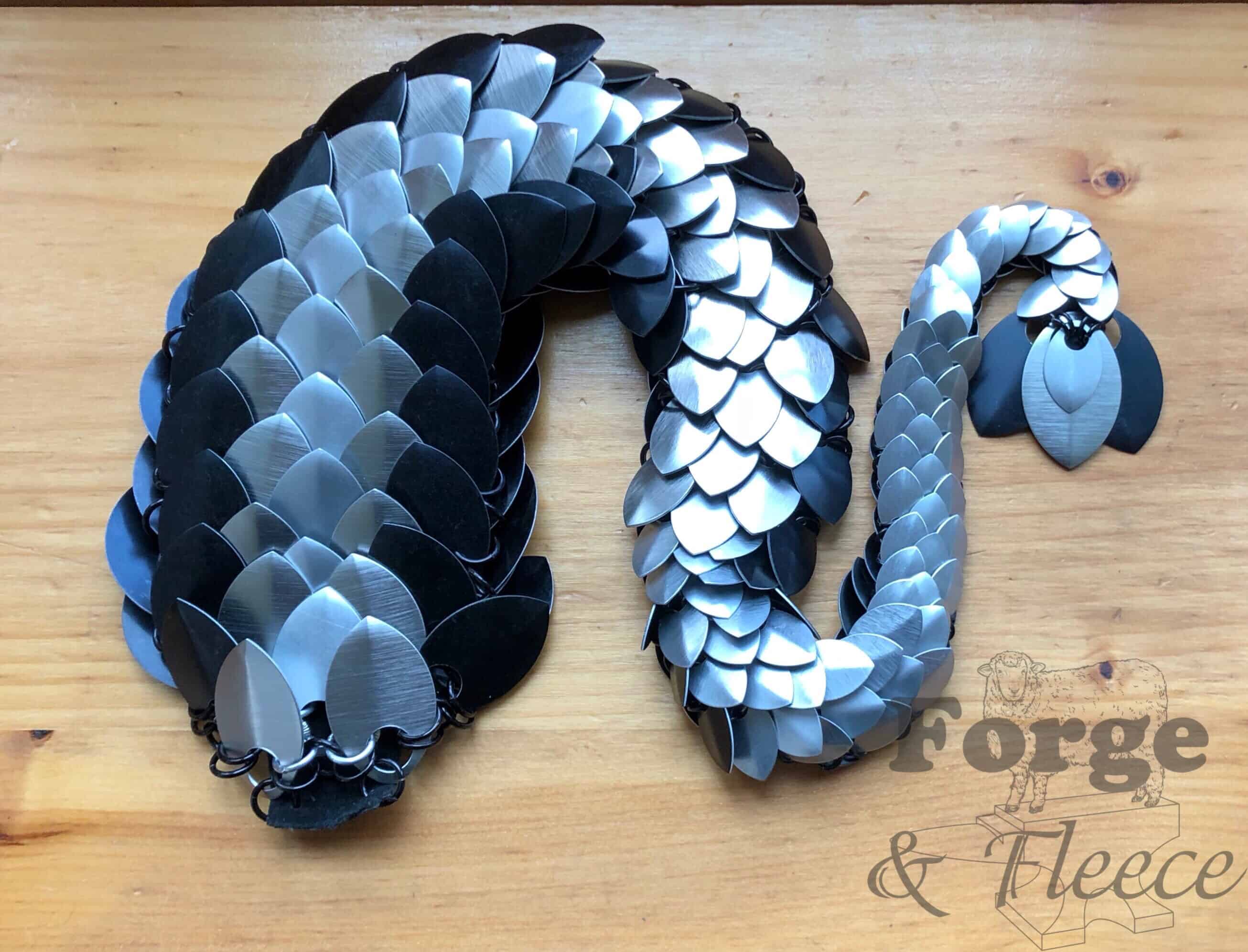 Forge and Fleece
With over 17 years making chainmail, the artist of Forge And Fleece specializes in handmade chainmail and scalemail armor, jewelry, toys, and costume pieces. Custom work available on commissions. Whether you want to be a dragon, or the queen or king riding it you will find what you need at Forge And Fleece.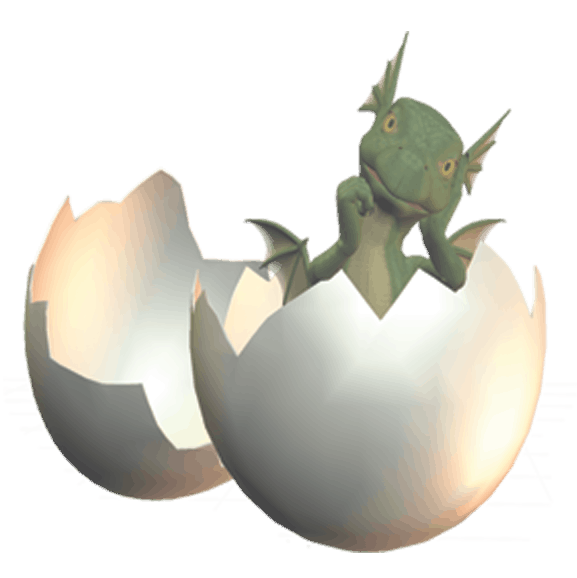 Little Green Dragon
Come get a variety of things from incense & blank books to salt & selentite lamps & oils & diffusers to sarongs, eye pillows & umbrellas plus more…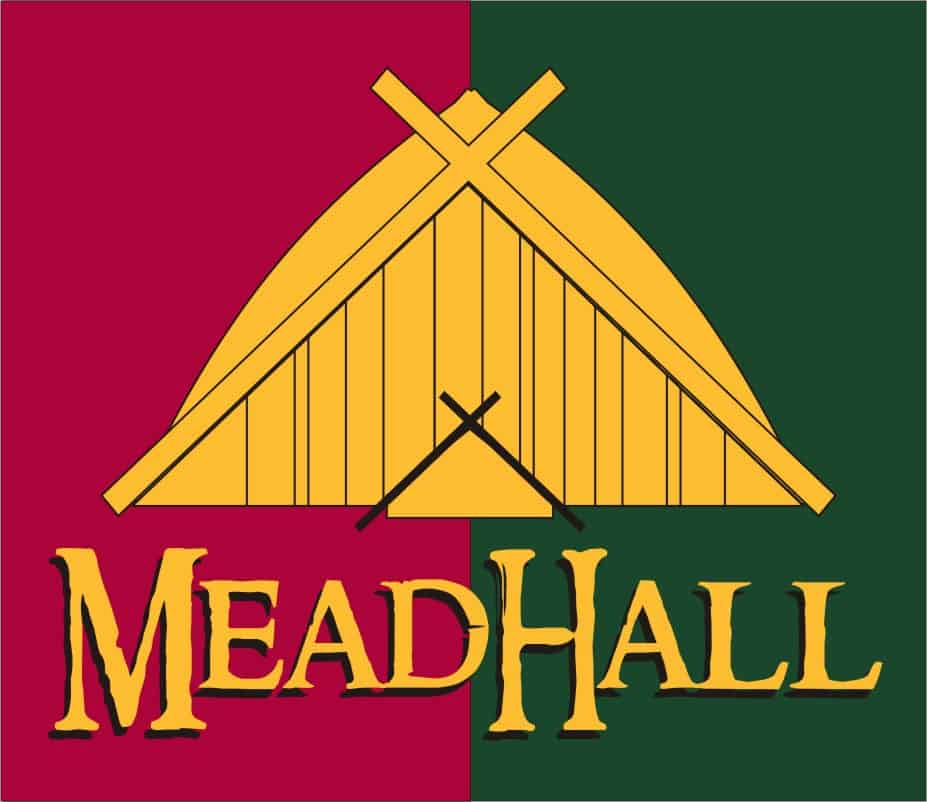 MeadHall Outfitters
Medieval and pirate garb for women and men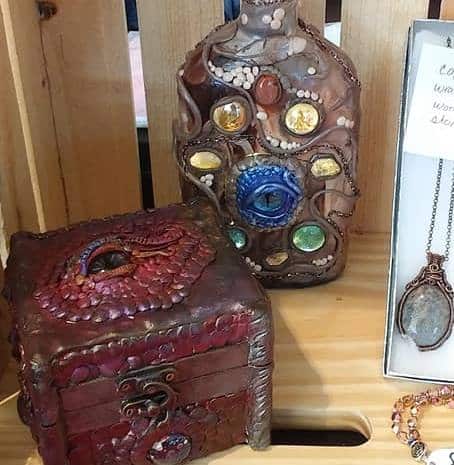 The Mad Crafterz
We are a small group of crafters that make uniquely designed paintings and glass etching.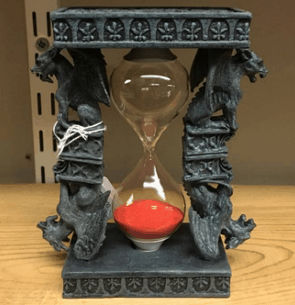 Tintagels Gate
Tintagels Gate has all you need for a magical time at the faire! Stop by for a Spell!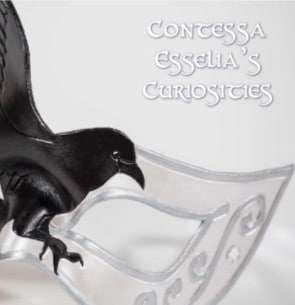 Contessa Esselia's Curiosities
Come and see Contessa Esselia's Curiosities for amazing masks, creatures and accessories you won't find anywhere else! Her beautiful and intricate creations are handcrafted out of leather. You are sure to find that showpiece accessory that really stands out in a crowd. Be sure to check out her Arm Dragons, incredibly detailed creatures, just waiting to ride home on your arm!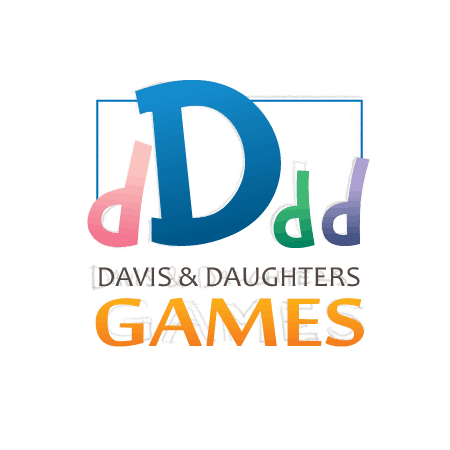 Davis & Daughters Games
Davis & Daughters Games is dedicated to making board games that parents can enjoy playing with their kids.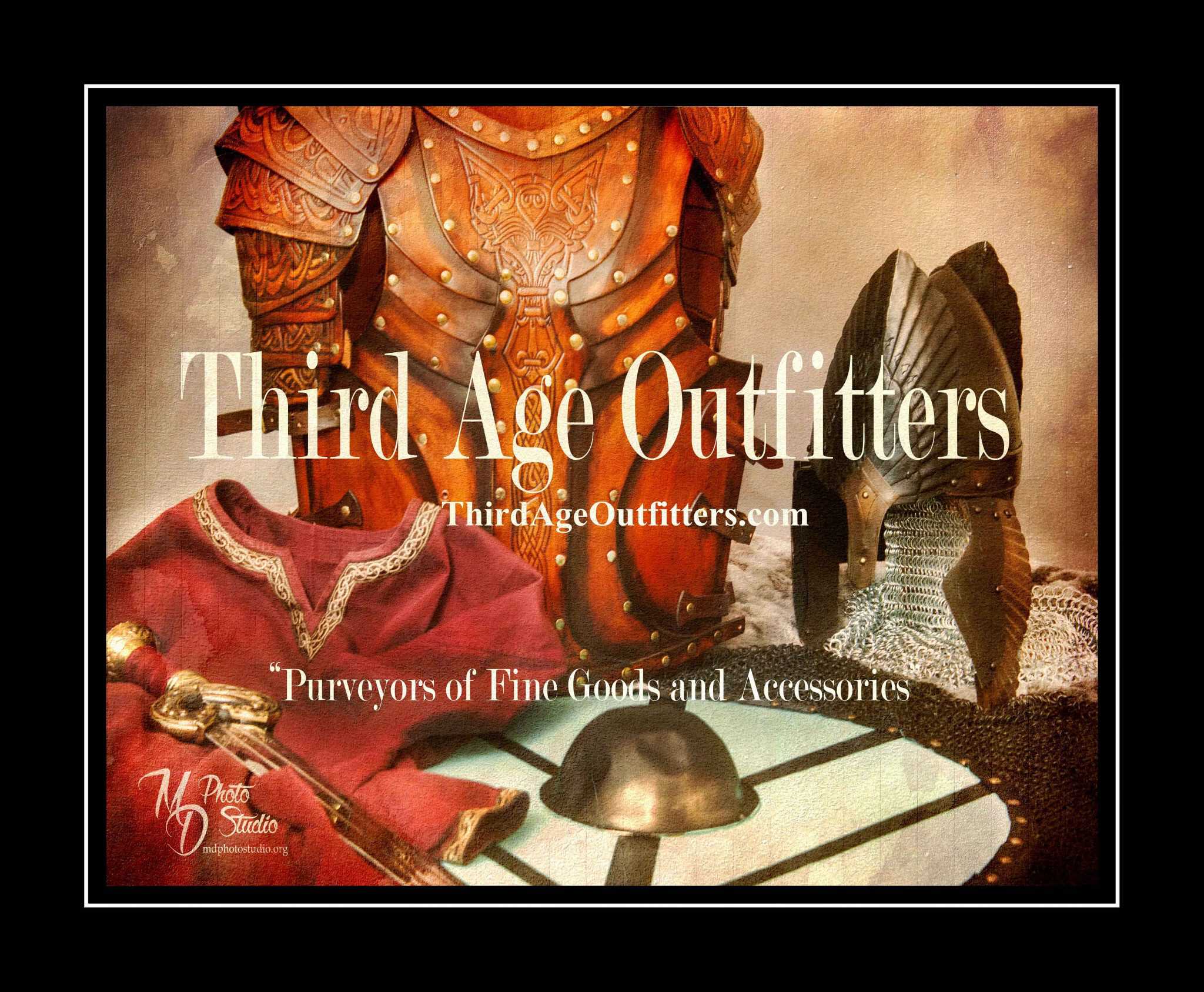 Third Age Outfitters
Purveyors of Fine Art, Armor, and Accessories. Third-year returning vendor.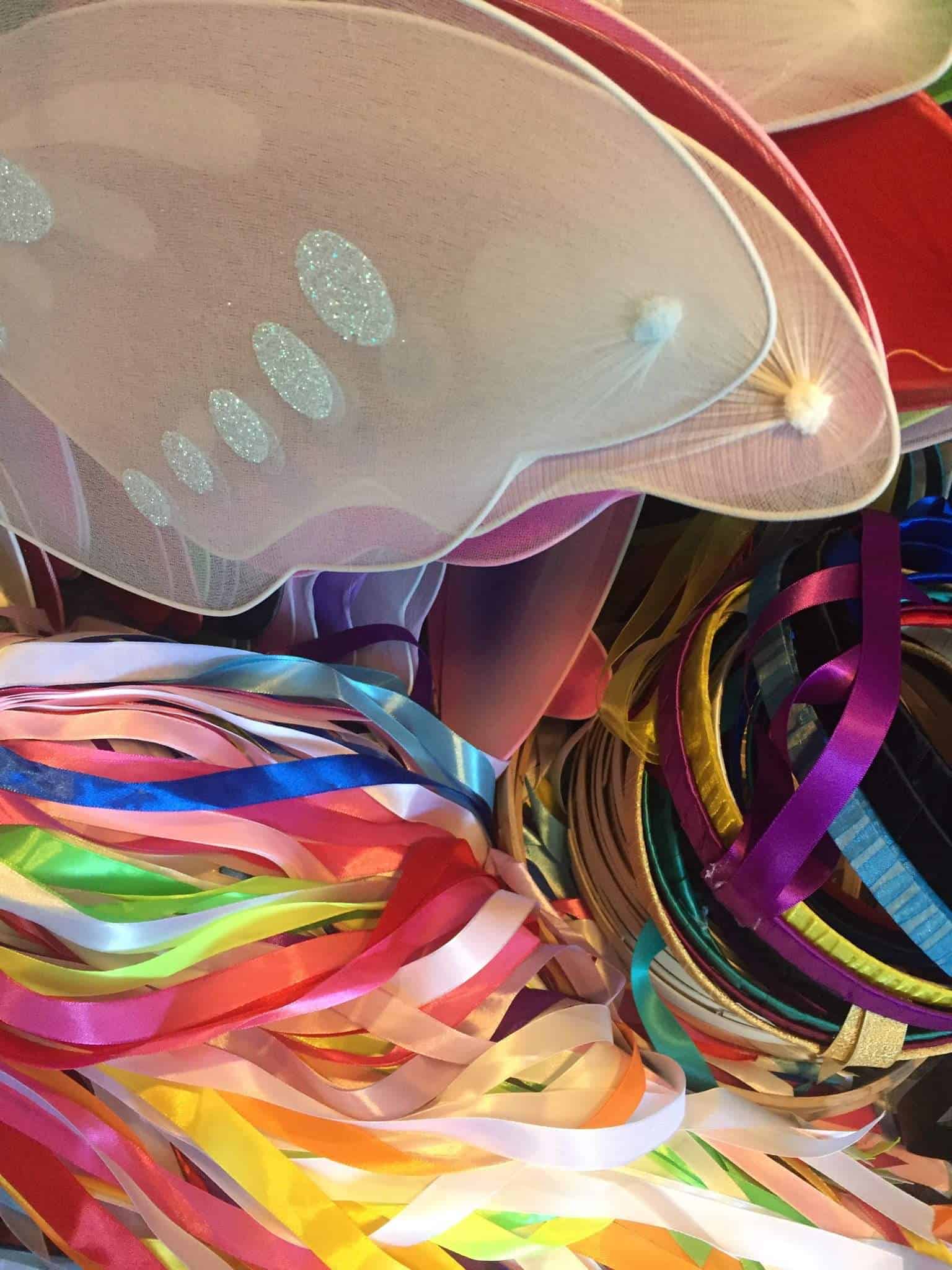 Glass Wings and Gypsy Things
A perfect shop to become a fairy for kids and adults alike, Wings, crowns, masks, tutus, fans and other nerdy/fantasy home decor. A shop for everyone.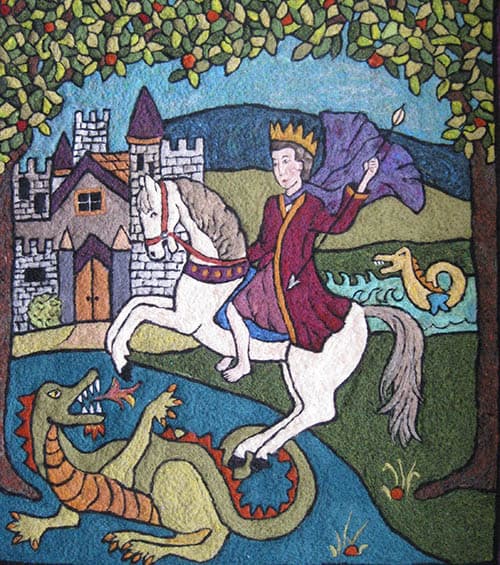 The Felting Studio
Inspired by ancient themes and folklore legends, the exquisite felt tapestries of Neysa Russo, combine people, animals, and foliage to create harmonious scenes in wool. Every tapestry, rug, and home decor accessory is 100% handmade wool felt by Neysa Russo. The designs are inspired by ancient embroidery motifs, Middle Eastern Rugs, and medieval textiles.
The tapestries are created using a combination of wet felting and needle felting techniques.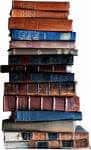 Monroe Bridge Books
Selling used and rare books to inspire curiosity, enhanced learning, and creativity. Includes Irish & Scottish books, Crafts, Music, Children's books, Fantasy, Medieval & Renaissance books, Heraldry, Weaponry, English History, Tarot, and much more.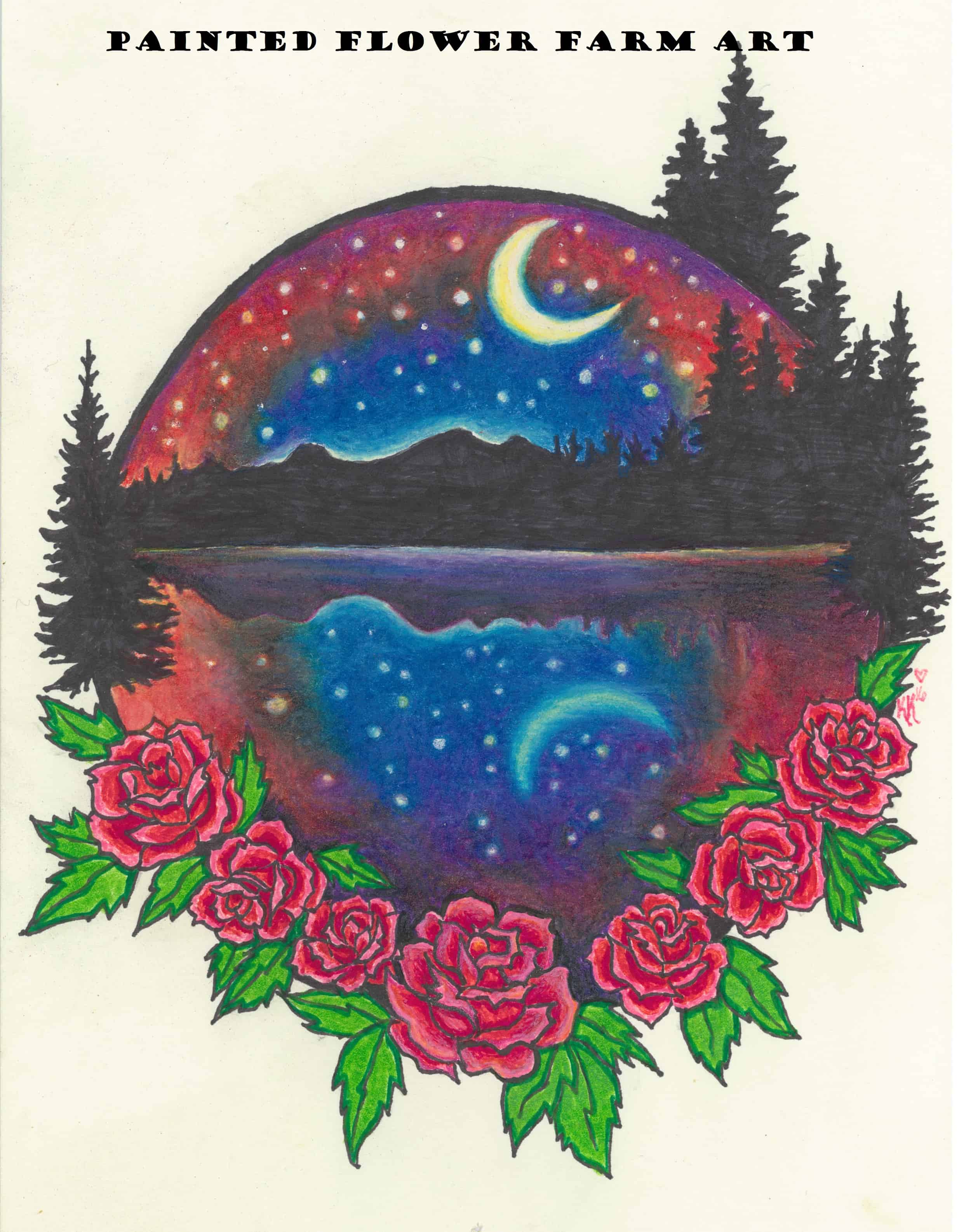 Painted Flower Farm Art
Nature inspired creations, hand painted in Maine with love!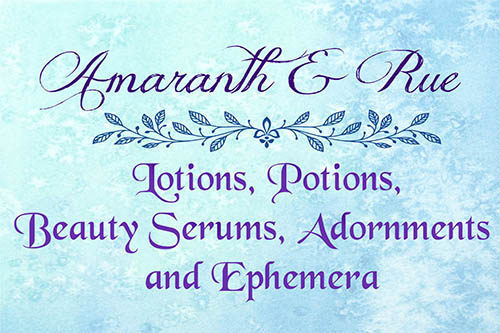 Amaranth & Rue
Amaranth & Rue: Lotions, Potions, Beauty Serums, Adornments & Ephemera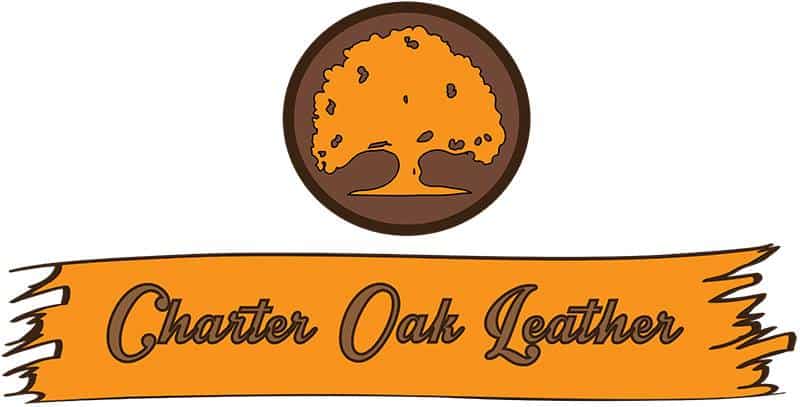 Charter Oak Leather with Lame Horse Creations
Charter Oak Leather and Lame Horse Creations have teamed up to bring you an assortment of leather and cloth items that will help to make your Renaissance look complete. From bodices to belts and drinking horns, we have "Leather for Everyone"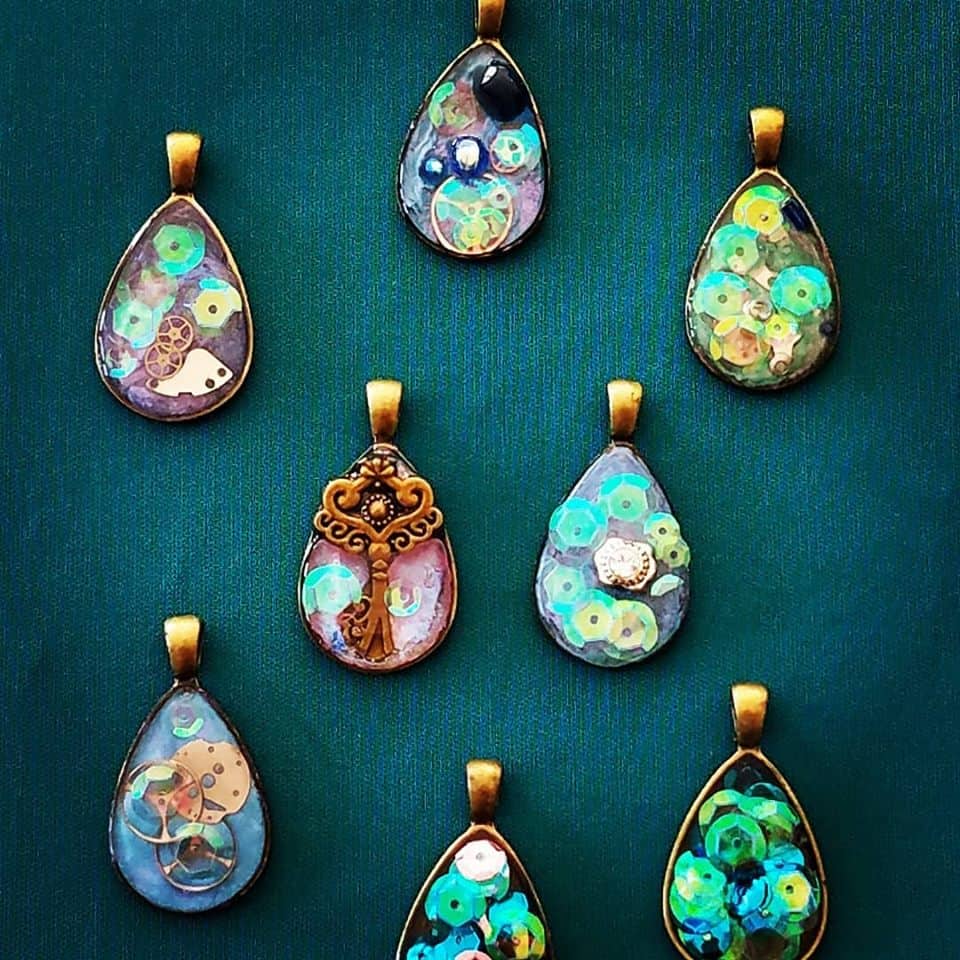 Dr Dr Steampunk
DrDrSteampunk is steampunk inspired jewelry and other fun wares! What started as a hobby, built into an obsessive, creative flow that I now love sharing with the world! Each piece of jewelry is one of a kind and unique, always with a touch of sparkle magic!!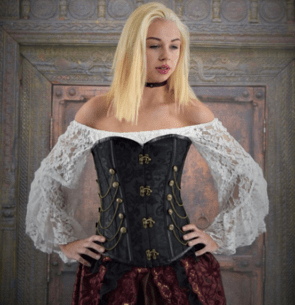 KISS Designs
We craft festival corsets and garb from antique and vintage materials and lace!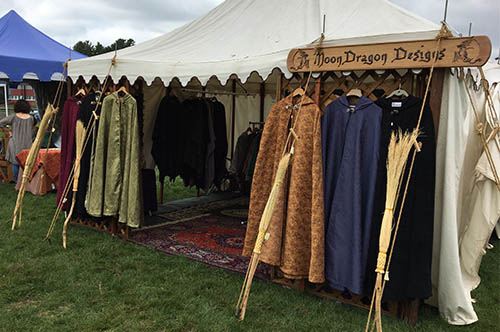 MoonDragon Designs
All handmade capes, cloaks, kaftans, caplets, Irish knit hand warmers, jewelry, and accessories.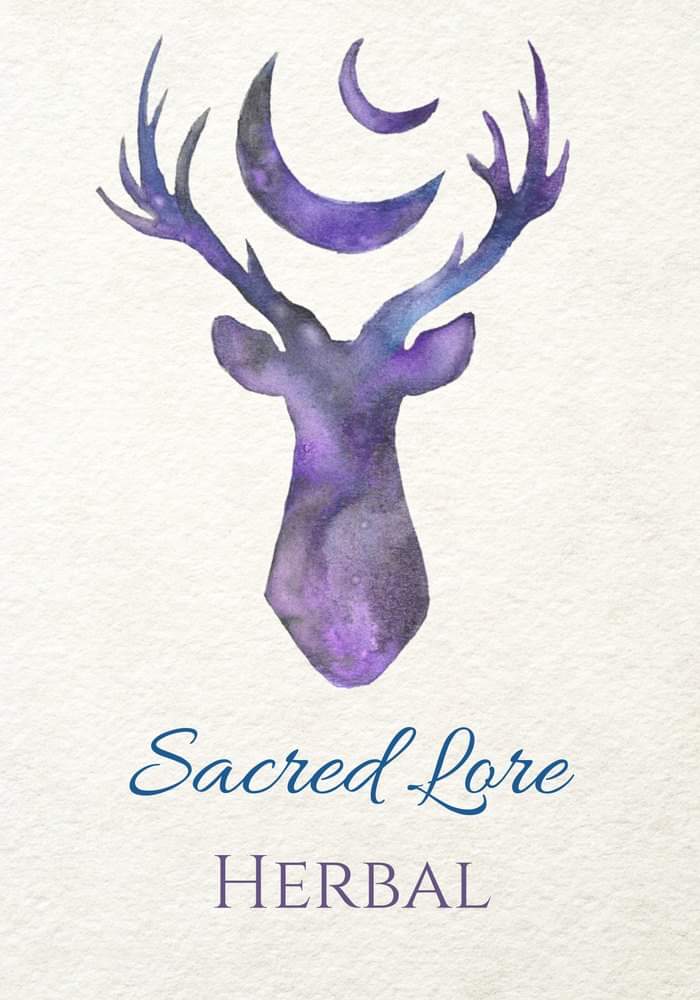 Sacred Lore Herbal
Sacred Lore Herbal is owned and operated by Amber Therrien, a certified herbalist from NH. All of our products are handcrafted with gentle, natural ingredients to be healing, fun, and beautiful.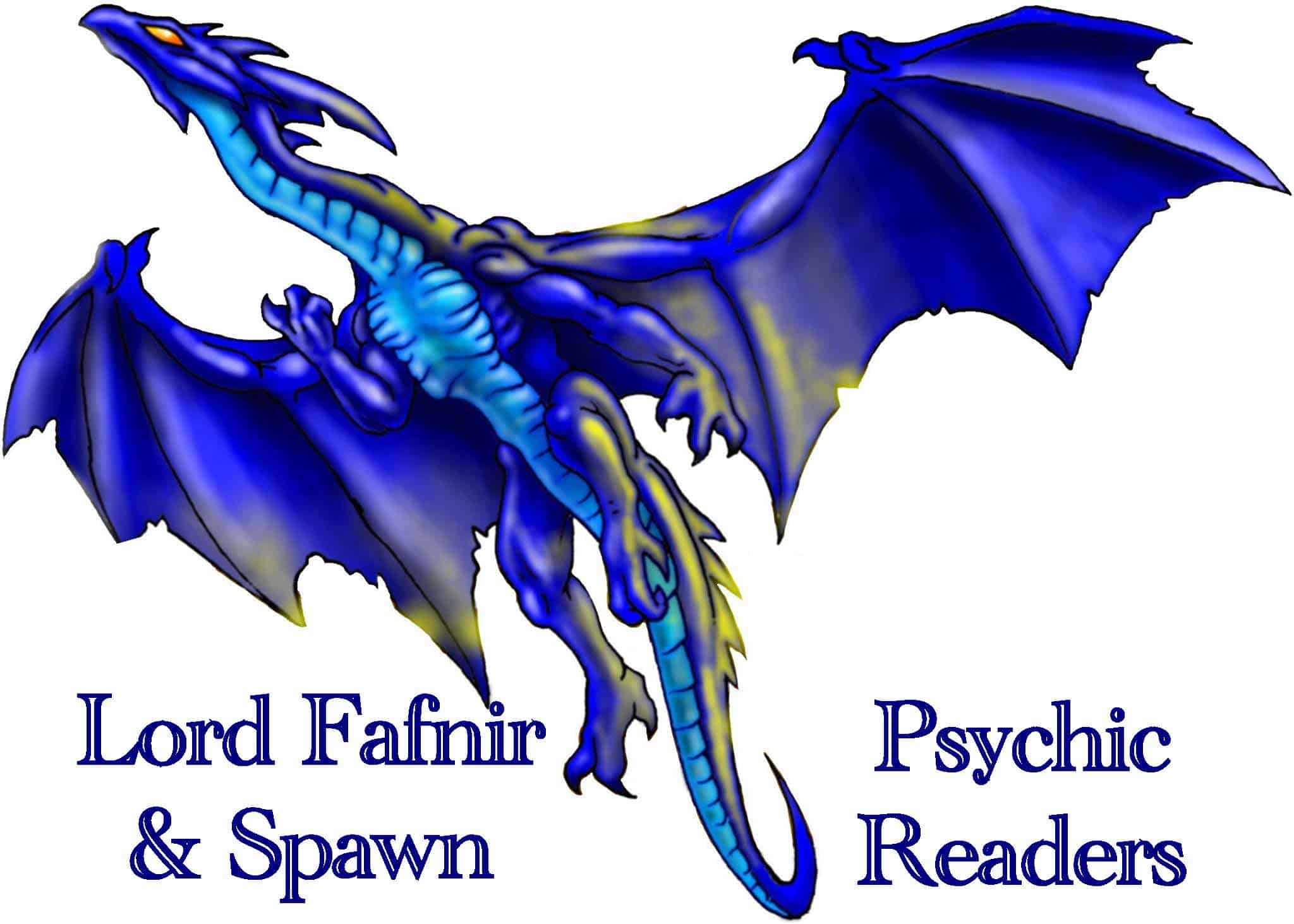 Lord Fafnir & Spawn
Lord Fafnir & Spawn is an amazing father-daughter psychic team. Both Bruce and Red are qualified psychics and spiritual intuitives who give accurate psychic readings through a range of mediums including tarot and other cards, palmistry, numerology, and energy transfer. Do you need help in making a decision, to clarify a situation, or achieve insight into a problem? Are you looking to share the light of gifted intuition into the mystery of your life's path? Let us use our gentle powers of psychic gifts to help you and encourage you to move in a positive direction and face the challenges that may lie ahead.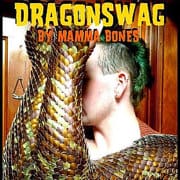 DragonSwag by Mamma Bones
Hand knitted scalemail accessories including dragon eggs, full arm sleeves, dice bags, pauldrons and more.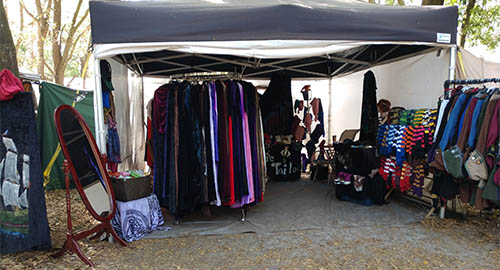 Fairie Tailor
We make 95% of our products. Pirate jackets and clothing, capes – plain and painted from doll to adult sizes. We also carry pirate hats and other hats.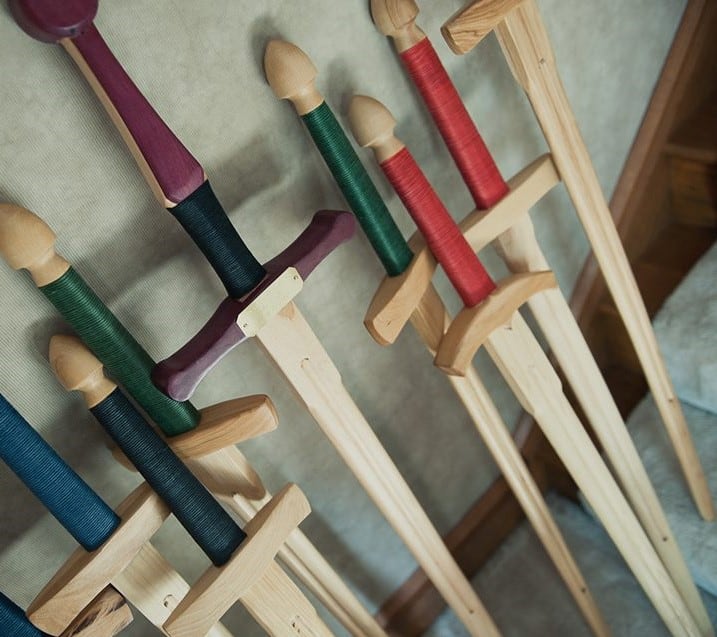 Hickory Arms
Hickory Arms is hero ready! True Practice swords and gear. Maine, U.S.A.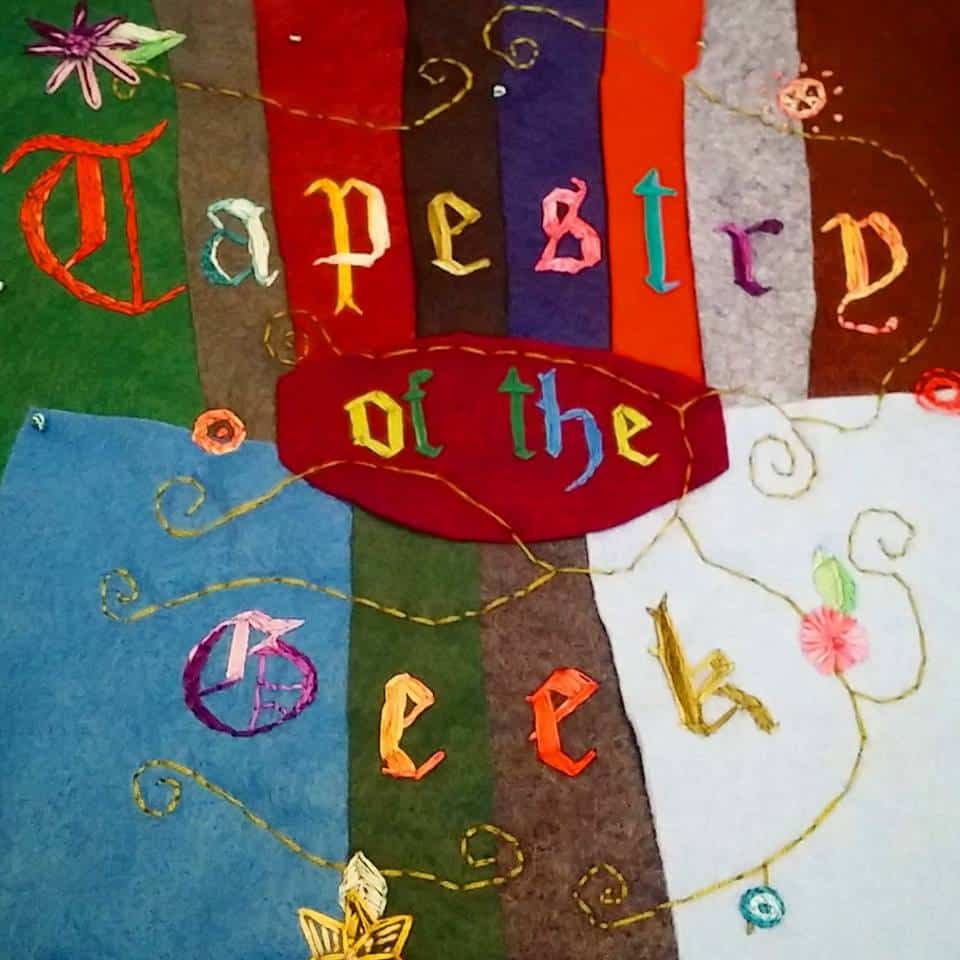 Tapestry of the Geek
Hand embroidered wall hangings and decor.
Emazanti Creations
Period and fantasy clothing for ladies and gentlemen, and hand-made bead woven jewelry and accessories including dragons, phoenix, mermaids and other fantasy creatures. We specialize in custom orders, bridal attire, period accurate historical clothing, larp and cosplay costumes.
MVB Printmaker
MVB Printmaker crafts one-of-a-kind, hand bound journals and sketchbooks. All of the designs and artistry is original and unique.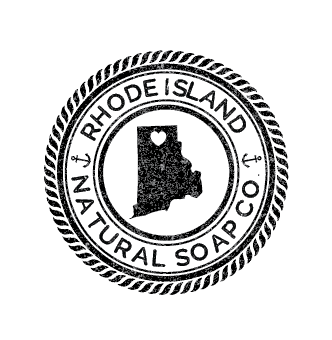 Wench's Washroom
Rhode Island Natural Soap Co. brings grandma's soap into the 21st century with style, color and flair. Browse our broad selection of natural soaps and skincare products, we've got a little of something for everyone! Oh, and you MUST try the Dragon's Blood bar! (For obvious reasons!)
Catherine's Hand Crafts
Catherine's Hands are filling the world with whimsy! Fluffy, colorful puffs of real wool are sculped with a small barbed needle into the stuff of fantasy- fairies, mermaids, gnomes and more! Stop by and you may see the creative process at work!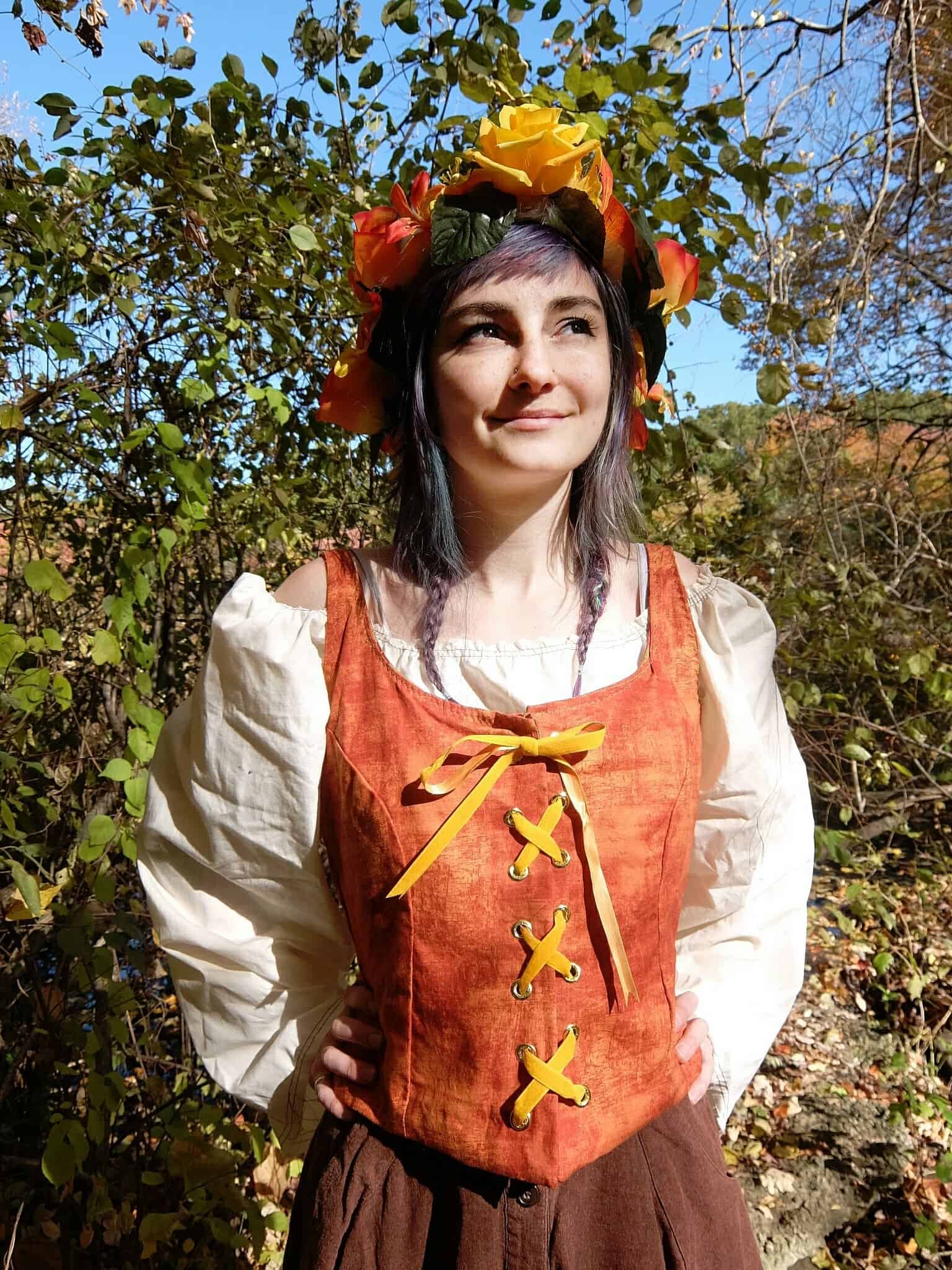 Cloak and Crown
Cloak and Crown was created for all to find comfortable, beautiful, and wonderful fantasy garments. Whether you are an adult small or large all items are created to be comfortable, well fitting and handmade with love. Stop by and become your wonderful magical self!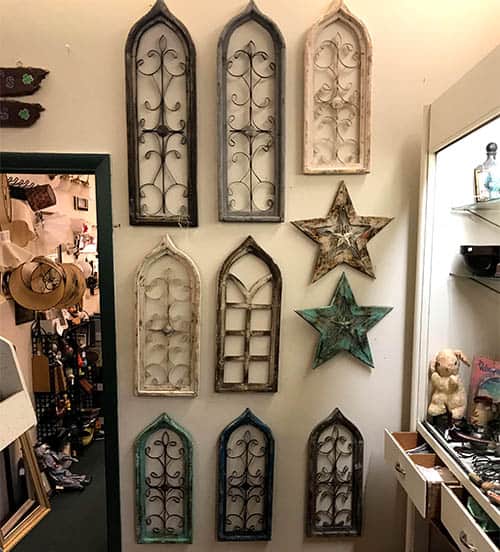 Gothic Works
Gothic Works Has Arches and Stars that are impervious to the weather. We offer six sizes and a multitude of colors. They can also be used for stained glass and mirrors or just hang it in your hallway.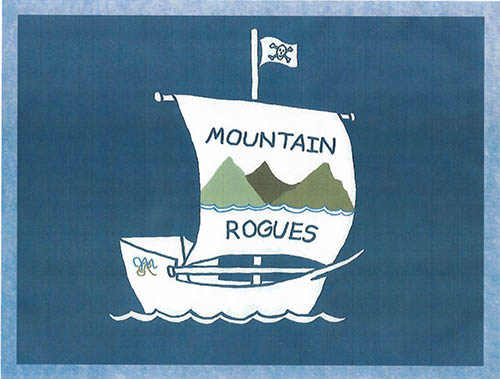 Mountain Rogues
Some of our handcrafted items include period games in wood, fabric, and paper; fabric covered Faire Lyric Books; Fabric Tote bags; Pirate Captains' flag throws; Wood & fabric nautical wall décor. Other items we carry are Pirate Captain's flags with info on each captain, decks of pirate-themed playing cards.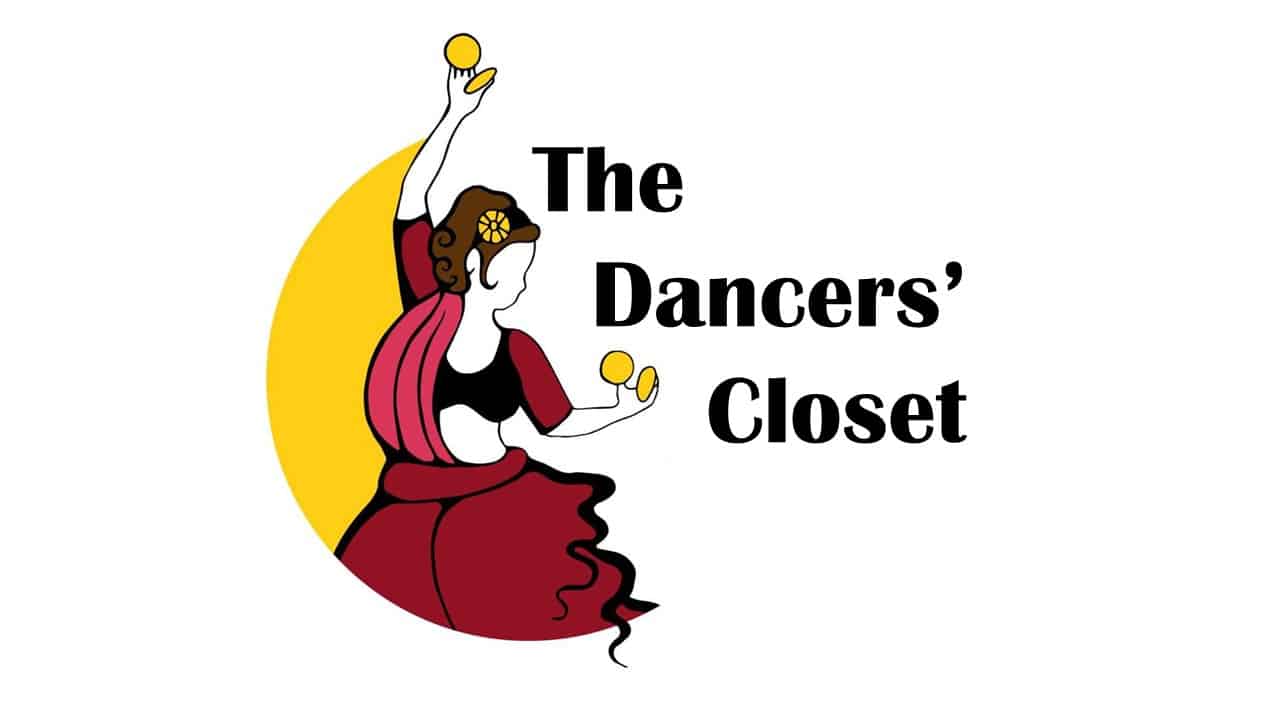 The Dancers' Closet
The Dancers' Closet is a space where the members of Trade Route Tribal Dance and their friends gather their gently used costuming (some new) to pass on to other dancers and folks to enjoy. We still love the pieces, but they've been in the back of our closets and they need to be worn and loved.
The space also includes one-of-a-kind hand-made jewelry and dance belts created by a dancer for dancers.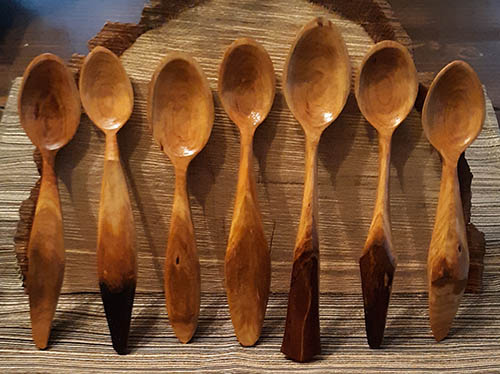 Woods Magic
I am a professional spoon carver from Connecticut. All of my products are made by hand without any power tools. I finish all my pieces with organic grape seed oil, and all the products are food safe and allergen free 🙂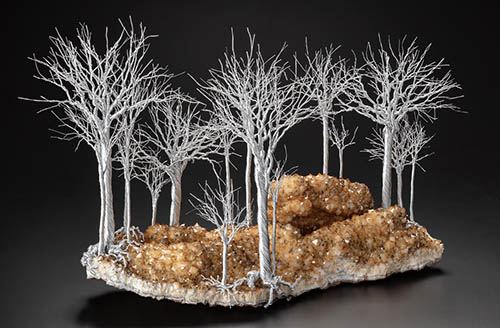 Nova Luke Studios
Handmade sculpted wire trees of life and treescapes.
Festival Dates
August 5-6 and 12-13, 2023
Festival Times
August 5th and 6th:
10am-7pm is Family Friendly Faire Fun!
7pm- 10pm is our 18+ Market After Dark
August 12th and 13th:
10am-5pm is Family Friendly Faire Fun and the 13th is Pet Day!
Directions
97 Fairgrounds Road, Cummington, MA
Directions
97 Fairgrounds Road, Cummington, MA