Spur of the Moment Jousting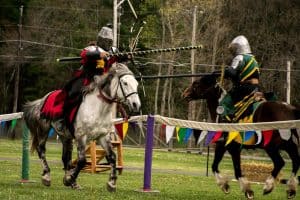 When you hear the words "spur of the moment", it evokes spontaneity, impulse and excitement; a perfect description of our Joust show!  Come and see brightly attired knights on their capricious steeds battling at the joust, or showing off their skills in games involving precision and timing!  Some of the challenges are rehearsed….other times, we wing it!  What will happen "Spur of the Moment?"
---
 The L.I.A.R.S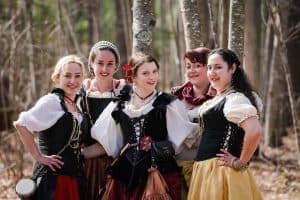 The L.I.A.R.S. are a performance troupe of sultry songstresses who blend pretty harmonies, wry wit, and an unabashed love of terrible puns into stage shows for you to enjoy. With material spanning everything from tragic ballads of lost loves, bawdy backroom ditties, and traditional sea shanties, to rousing drinking songs, they are sure to have something for everyone.
---
Trade Route Tribal Dance and their Friends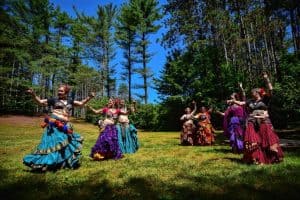 Trade Route Tribal Dance is a collective of ATS® dancers from across New England. American Tribal Style® Belly Dance (ATS®) is a transnational fusion dance with influences from classic Egyptian, Folkloric, Indian, Spanish, Romany, and other dances.  It is group improvisation where a vocabulary of movements and cues are used, allowing the dancers to create art in the moment. With members from Maine, Massachusetts, Rhode Island, and Connecticut, the magic of ATS® allows the dancers of Trade Route Tribal Dance to move as one.
---
Granny Grue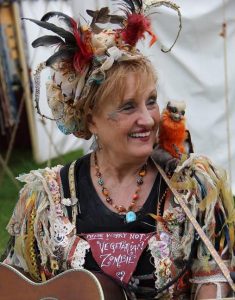 Granny Grue's Vegetarian Zombie comedy show is for all ages. If you see her wandering around anywhere, do get a Dragon Tear to ward off bad dreams! And, if you find any body parts lying around, they are probably hers. Please return them for a prize!
---
Below the Gaff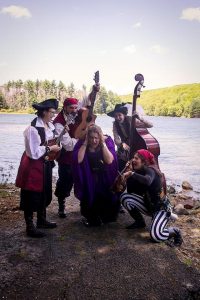 Arrrr ye ready to hear some bad pirate jokes along with traditional Irish folk songs, sea shanties and original pirate tunes? Then Below the Gaff is here to quench your thirst, matey.
---
Myschyffe Managed
This motley crew was formed by a small herd of "Ren Rats" with a tenuous grasp on reality who also love to sing. The members feel that a bit of authentic period music adds to the overall ambiance of the various renaissance faires gracing our locale, and our audiences seem to agree.
---
The Knights of Lord Talbot
Come watch Knights of Lord Talbot clash steel for your entertainment. They are an education based reenactment group featuring unscripted armored combat demos and a historical encampment dating from the end of the Hundred Years War.
---
Mike OJ
Come Lords and Ladies to enjoy the chaotic and fun magic of Mike OJ, (sort of) Professional Mage! Come for a performance of fun, laughs, and magic. Following the motto "Believe in the Magic of the World". Come see Cards! Coins! Bottles! And Extreme Danger! Appropriate for all ages!
---
Karnevil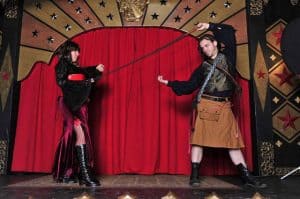 Roll up, roll up fiends and fans for a whip cracking, glass smashing, spike hammering good time! Step right up and gaze in amazement as the Karnevil crew astounds, amuses, confounds and confuses like no other danger act in the known world can! Featuring supervillain extraordinaire and king of the bullwhip Dr. J.R. Whitcomb as well as the pain-proof woman Lady Gypsy, Karnevil is guaranteed to satisfy all your adrenaline needs.
---
Sasha the Fire Gypsy – Fire and Sideshow
Come check out Sasha the Fire Gypsy as she quite literally risks her life for your entertainment! She performs a thrilling show with dance, danger, FIRE, and sharp shiny pointy things!
---
The Creepy Bard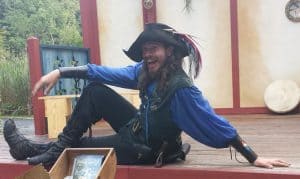 Gather round to hear as David Anthony, The Creepy Bard regales you with songs of drinking, roving, fighting, and things to keep secret from your mother. You will laugh, cry, blush and wonder where you left the whiskey.
---
Wit and Steele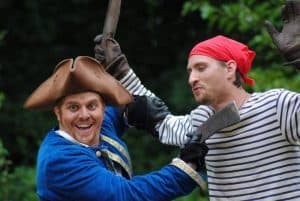 Ready for a tale as old as time? That is exactly what you are in for, when you mix French ego and British vanity in a battle of the…well – pointy things! Wit and Steele is a comedy fight act, with just a shameless dash of additional slapstick! Come and check out Captain Napoleon Steele and Mr. Thomas Wit throughout the festival day!
---
Shelli Buttons
Prepare to be amazed by Shelli Buttons as she performs aerial silk, acrobatics, machete juggling, and her unique bottle walking act. Watch her perform captivating feats of skill and balance with a whimsical flare that is cute as a button.
---
Misfits of Avalon
The Misfits of Avalon play Celtic music featuring the hammered dulcimer at festivals and

faires

all over New England. Brian Weiland plays the hammered dulcimer, Celtic mandolin, and anything else he can get his hands on. Max Cohen is a guitarist capable of playing with both sublime delicate beauty and energetic powerful drive- often within the same song! At this

festival

they will also be accompanied by Brian's son Aiden Weiland on fiddle.
---