Frequently

Asked

Questions
You've got questions. We've got answers.
When is the faire?
August 5th & 6th!
Yes, we were originally scheduled for two weekends this year, however circumstances beyond our control have forced us to drop the second weekend. We will only be open on the 5th and 6th this year!
Where is the faire being held?
The Cummington Fairgrounds at 97 Fairgrounds Road, Cummington, MA 01026. 
The Cummington Fairgrounds is located one mile south of  State Route 9 in the center of Cummington, 20 miles west of Northampton, and 22 miles east of Pittsfield.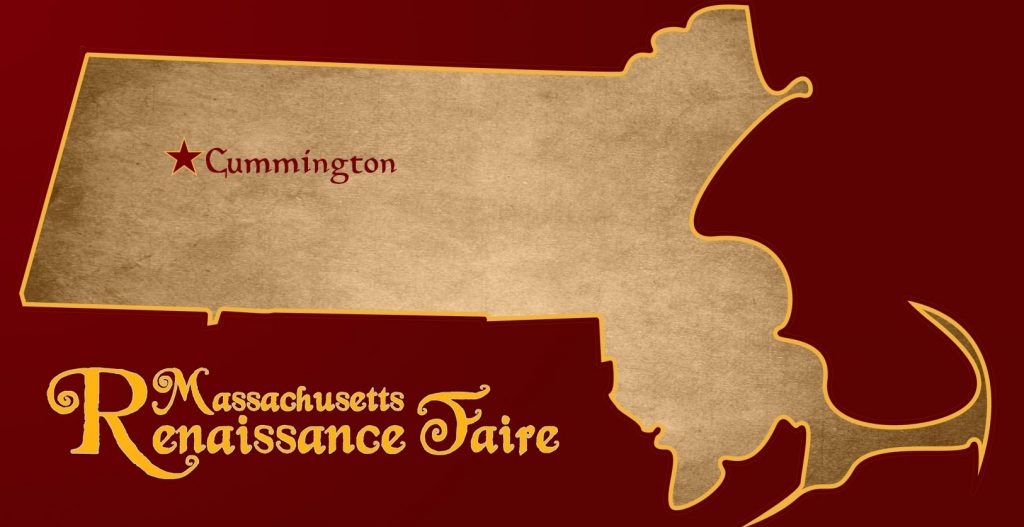 How much is admission?
At the gates, only same-day passes will be available, and the prices will be:
Adult Pass: $20
Child Pass (ages 6-15, 5 and under free): $10
Senior/Military (with ID) Pass: $17
We are only accepting CASH at the gates, but you can BUY TICKETS ONLINE beforehand and pay with credit that way!
Refunds and Exchanges
The Massachusetts Renaissance Faire does not offer refunds or ticket exchanges. We offer plenty of indoor cover, and will remain open on most rain days (barring dangerous weather like thunderstorms, heavy winds, etc). The Massachusetts Renaissance Faire does not offer refunds for closure due to weather, acts of God, or other reasons beyond our control. If you have questions regarding this policy please contact us at [email protected] or by phone (860) 294-9519.
What is there to do?
You can find the following at our Faire:
Musical Acts

Storytelling

Fire Shows

Comedy

Jousting

Workshops

Historical demonstrations

Ax throwing

A mystical marketplace full of unique Vendors

Food

Games

…and much more!
Our full list of vendors and entertainment will be coming soon!
What hours are you open?
We are open from 10 am to 10 pm on Saturday and 10 am to 5 pm on Sunday.
Our Market After Dark for guests ages 18+ starts at 7 pm Saturday. Select vendors will remain open for the After Dark portion of our event.  
What is the "Market After Dark" Are kids allowed?
After 7 pm, the Faire is closed to anyone under the age of 18. Nighttime shows will not be suitable for children.
Police and Security reserve the right to ask for valid photo IDs to verify age.
Adult Entertainment will include:
Bawdy sings

Adult Comedy

Sideshow Acts

Kilt and Cleavage Contest
Is camping available?
We offer camping for our patrons at Tolgy Wood: Chesterfield Camp, only 7 miles away! Camping registration will be available soon.
What should I bring?
Cash (it makes things speedy and not all of our vendors can take credit)

Comfortable Clothing/Walking Shoes

Sunscreen

Bug Spray

Layers (in case it gets chilly)

A hat or umbrella as some of our stages (and the jousting) are in direct sunlight
May I wear a costume?
Yes! We love to see our guests dressed up! However, costumes are not required. Come as you are or as who you want to be!
You may wear clothing from any particular period or genre, but the Faire itself is medieval fantasy-themed with a focus on the Realm of Faerie. 
May I wear a weapon with my costume?
We do not encourage the wearing of weapons as part of your costume. However, if you do bring one, it must be sheathed and peace-tied (zip-tied into its sheath or to your belt to discourage an easy draw). If you are discovered to be wearing a non-peace-tied weapon, you will either be asked to peace-tie it or return the weapon to your vehicle. Weapons include, but are not limited to, guns, knives, swords, arrows, spears, and whips. Further resistance will be cause for expulsion from the Faire.
Do I need a character in order to interact with the fairies?
No, though you are welcomed to do so if you wish. The fairies and other creatures at the Faire are happy to interact with you matter who you are or claim to be!
Are pets allowed?
For most days, no. Pets are not allowed on site.
ADA approved service animals are allowed. The ADA defines a service animal as "any guide dog, signal dog, or other animal individually trained to provide assistance to an individual with a disability.
However, we will be having a Pet Day on August 6th where patrons will be allowed to bring a well-behaved and leashed pet! Please see our Pet Policy to get the rules and download our waiver.
What kinds of food will be available?
We will have a Faire Snackbar open that will be offering basic meals and snack foods as well as Giant Roasted Turkey Legs, but we are also excited to have a variety of food vendors with a plethora of delicious things to eat at this year's Faire, including vegetarian and gluten-free options! 
There are also plenty of places to get free tap water to fill up water bottles and the like at the Fairgrounds- simply ask at the Snack Bar.
Please note that neither outside food nor outside alcohol are allowed to be brought into the Faire.
Will you accept credit cards?
Yes. We will accept credit cards for admission as well as at the merch booth and the snack bar.  There is a $10 minimum for credit card purchases at the gate, snack bar, or Faire merch booth. However, credit card transactions could end up taking a while and our Wi-Fi is very spotty and unreliable, so cash is preferred at high-traffic areas such as the Entrance and the Snack Bar.
Additionally, while some of our merchants accept credit cards, plan on having cash ready for those who don't, as well as for food and drink. We will have ATMs available as well.
Is re-entry allowed?
Yes. Once our guests register and receive their admission bracelets (which will be a different color each day), they are able to leave the grounds at any point during that day and return to the Faire, provided they have the correctly colored bracelet.
Do you close if it rains?
As a general rule, no. We do have multiple tents and lots of covered spaces, as well as "rain schedules" intended to shelter most of our shows in the event of rainy weather, however, if we feel that the weather is becoming dangerous, we will shut down and will let patrons, vendors, and volunteers alike know as soon as possible. Closing the faire is a last resort option.
Is the Mass Ren Faire affiliated with any other faire?
Nope!
 Like David S. Pumpkins, the Mass Ren Faire is it's own thing (and the Fairies are Part Of It!). We are in no way affiliated with any other Renaissance Faire. We do run several events throughout the year, including the Market of the Moons and the Haunted Hills Pirate and Mermaid Festival.
Will the Mass Ren Faire be running any other festivals?
We are looking forward to running events and festivals on multiple weekends with all sorts of various themes! Keep your eyes open and subscribe to our newsletter to hear about our latest adventures!
Photography information
All guests of the Faire may take photographs or video for personal use only. Commercial photography is forbidden without written permission from festival management. All attendees, with paid entry or free admission, grant The Massachusetts Renaissance Faire permission for their photograph to be used in our collateral materials. Parents or guardians of a child grant the Faire permission to use their photograph in our collateral materials.
Is the fairgrounds handicapped accessible?
Yes. Paved roads connect all parts of the fairgrounds. Some of the areas require navigating over grass lawn. Handicapped parking is available and the bathrooms are also ADA complaint.
Festival Dates
August 5-6, 2023
Festival Times
Saturday August 5th:
10am-7pm is Family Friendly Faire Fun!
7pm- 10pm is our 18+ Market After Dark
Sunday August 6th:
10am-5pm is Family Friendly Faire Fun and Pet Day!
Directions
97 Fairgrounds Road, Cummington, MA
Tolgy Wood: Chesterfield Camp
Cummington Fairgrounds